Painting your house exterior is essential! Paint helps protect your exterior from damage and keeps it looking good so you (and everyone else) can love it. Think of a combination of sunscreen and makeup for your home. Sunscreen to block the sun, rain, and weather and makeup to make your home look its best.
In this post, you can find the cost of exterior house painting. You can also discover the factors that can cause the cost to change.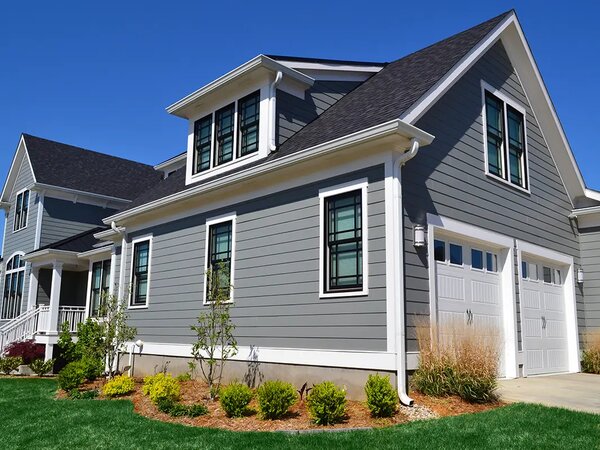 How Much does exterior house painting cost?
The short answer is that it depends on many factors. In this article, we will outline the factors that can impact the cost and answer some common questions about this type of project.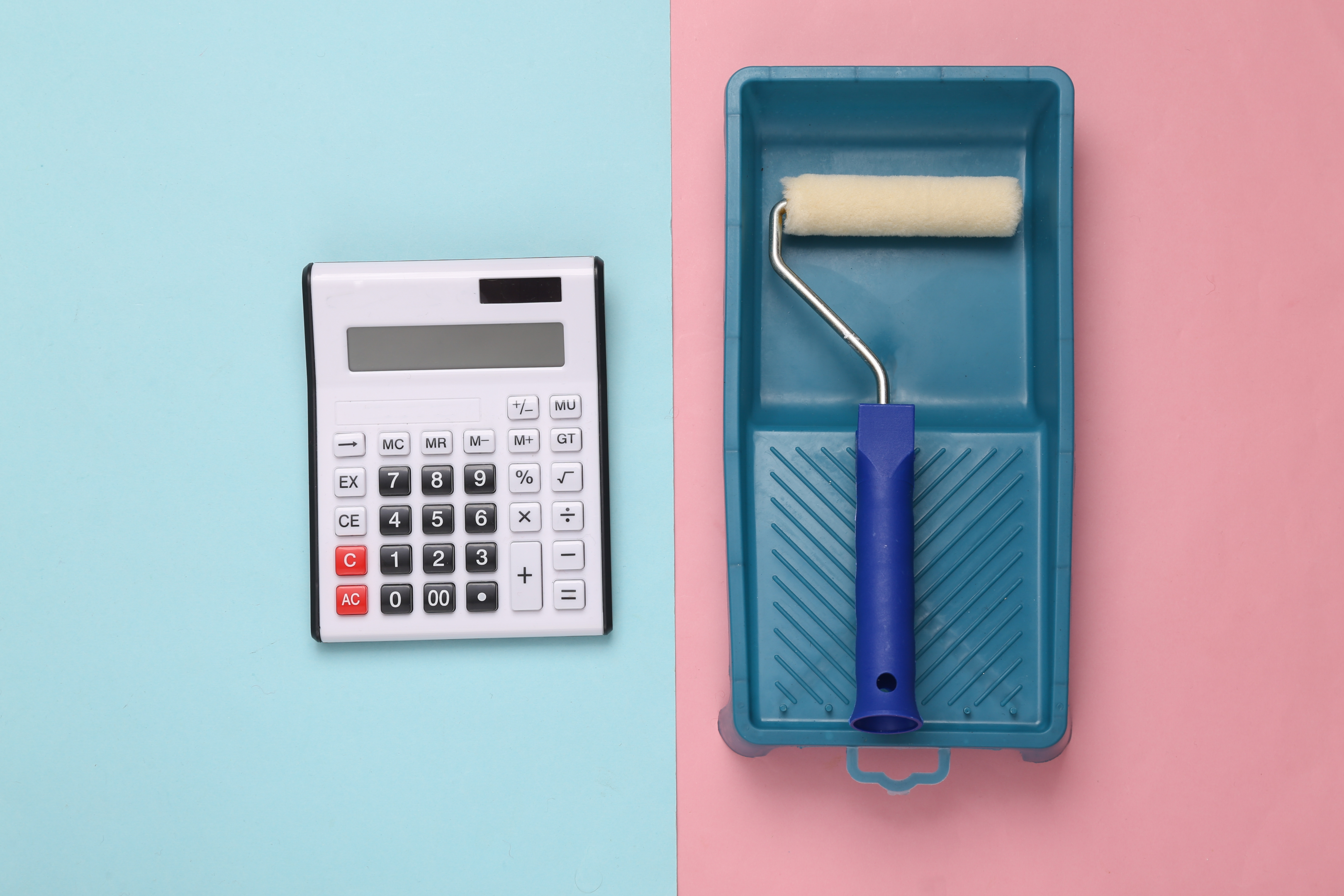 The cost of exterior painting can vary greatly depending on several factors
Painting the exterior of your home is a great way to spruce up your house's curb appeal instantly and can increase its value. The cost of exterior painting can vary greatly depending on several factors.
These include the size of your home, how much you want to be painted if you are changing colours or just repainting the existing colours, the type and condition of siding, the quality of the paint used, and whether or not there is damage and/or rot that need to be addressed before beginning a paint job.
Knowing these details will help ensure you get an accurate estimate for painting your home and choose materials that get the job done the first time.
Basic exterior house
cost to paint is between $3,500 and $6,000. This can include preparing and painting a deck or front entry.
What is a Basic exterior painting job?
A basic exterior paint job typically involves a crew of two professionals and will take approximately two to four days to complete. A paint job of this size could involve preparing and painting a deck or front entry.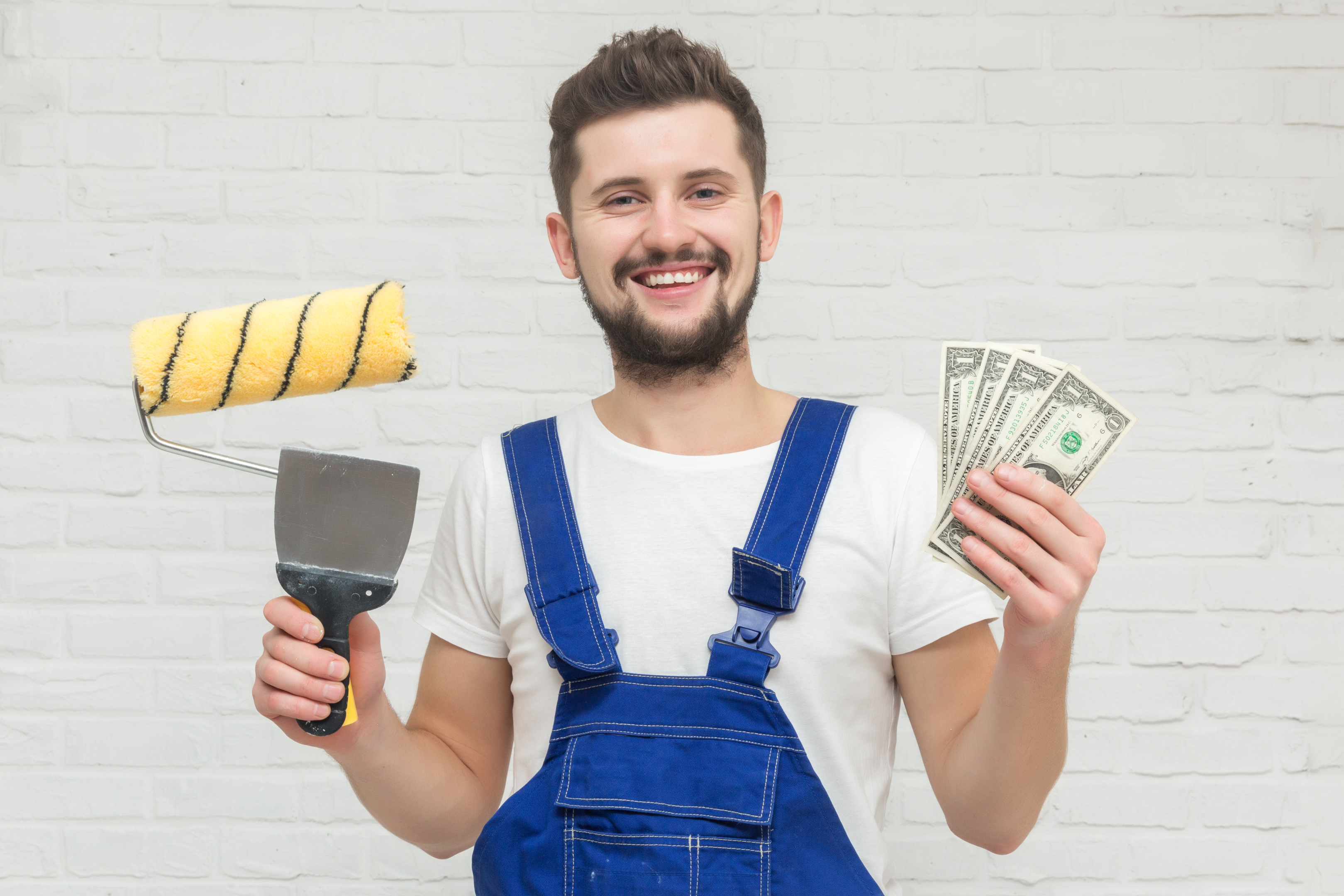 The crew will usually begin by power washing the area to remove dirt and grime and any loose paint chips that may be present. Once the area has been prepped, they will apply primer and two coats of quality exterior paint in your desired colour choice.
Average exterior house Painting in Vancouver
An average paint job can cost between $15,000 and $20,000. This could include preparing and painting a newer style 2,500-square-foot home's exterior.
What More can you say about an Average Exterior?
The cost of a job depends on the size, complexity, and type of paint used. Generally speaking, you should expect to pay between $15,000 and $20,000 for a 3-person crew to complete the job in a week and a half to 2 weeks on a newer home no older than 30 years old.
Before painting begins, ensure no damage or repairs are needed since the previous paint job was done. The team will begin by preparing the surfaces to be painted. This includes cleaning dirt and debris from walls, sanding away imperfections for a smoother finish, filling in any cracks or holes with caulk or spackle, and scraping off any flaking or chipping paint.
After the surface preparation is complete, one coat of primer will be applied, followed by two coats of high-quality paint that have been selected for their durability against weathering conditions like sunlight fading and extreme temperatures.
In some cases, scaffolding may need to be erected if the house has higher than normal elevations that cannot be reached with ladders alone.
Top Line Exterior job
Painting can cost between $60,000 and $70,000. This can include extensive preparation, replacing some, but not all, siding, some repairs, and painting a 2,500-square-foot home's exterior.
What More can you say about a Top Line Exterior job?
A Top Line Exterior paint job requires a lot of preparation, but the results can be stunning. A skilled and knowledgeable Vancouver painting company will know the correct processes and materials to achieve great results.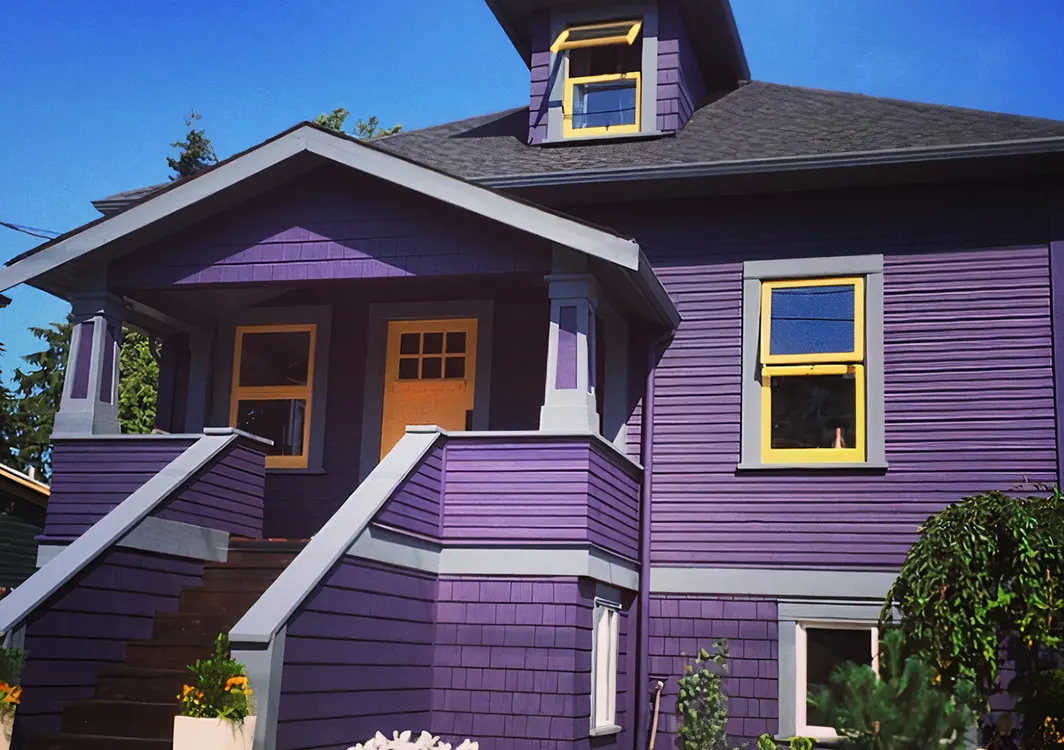 After the necessary repairs to the home have been made, it's time to begin prepping for painting. This includes scraping and sanding down any existing paint that is peeling or cracking, cleaning the surface with soap and water, and caulking any gaps in between boards, trim, windows and doors.
After all these steps are complete, the primer will be applied to ensure even coverage. Finally, multiple coats of high-quality exterior latex paint are applied.
Depending on the size of the home, colour choices, age of the home and other factors such as weather and access to areas of the home that need painting, this process could take 4 to 5 weeks for a four-person crew.
The cost of this type of job typically ranges between $60,000-$70,000; however, if it is a heritage home over 100 years old or requires additional repairs because of its age, then costs could be higher.
If done correctly by experienced professionals using premium materials, you can expect your Top Line Exterior Paint job to last up to 15 – 20 years before needing another recoat, making it an excellent long-term investment!
*Prices are averages and can mainly change based on the factors below
What 6 Main Factors Can Change Exterior House Painting Costs?
First, the size of the home
The size of a house can significantly impact the cost of painting it. You will find some very large homes on Vancouver's West Side. Neighbourhoods such as Point Grey, Shaughnessy, Kerrisdale, Kitsilano etc., all have larger homes.
More time and more materials
Larger homes take more time to paint, which translates into labour costs for the contractor. The additional materials needed, such as ladders, scaffolding or lifts to reach higher levels in multi-story homes, also increases the cost. In most cases, two coats of paint will be necessary.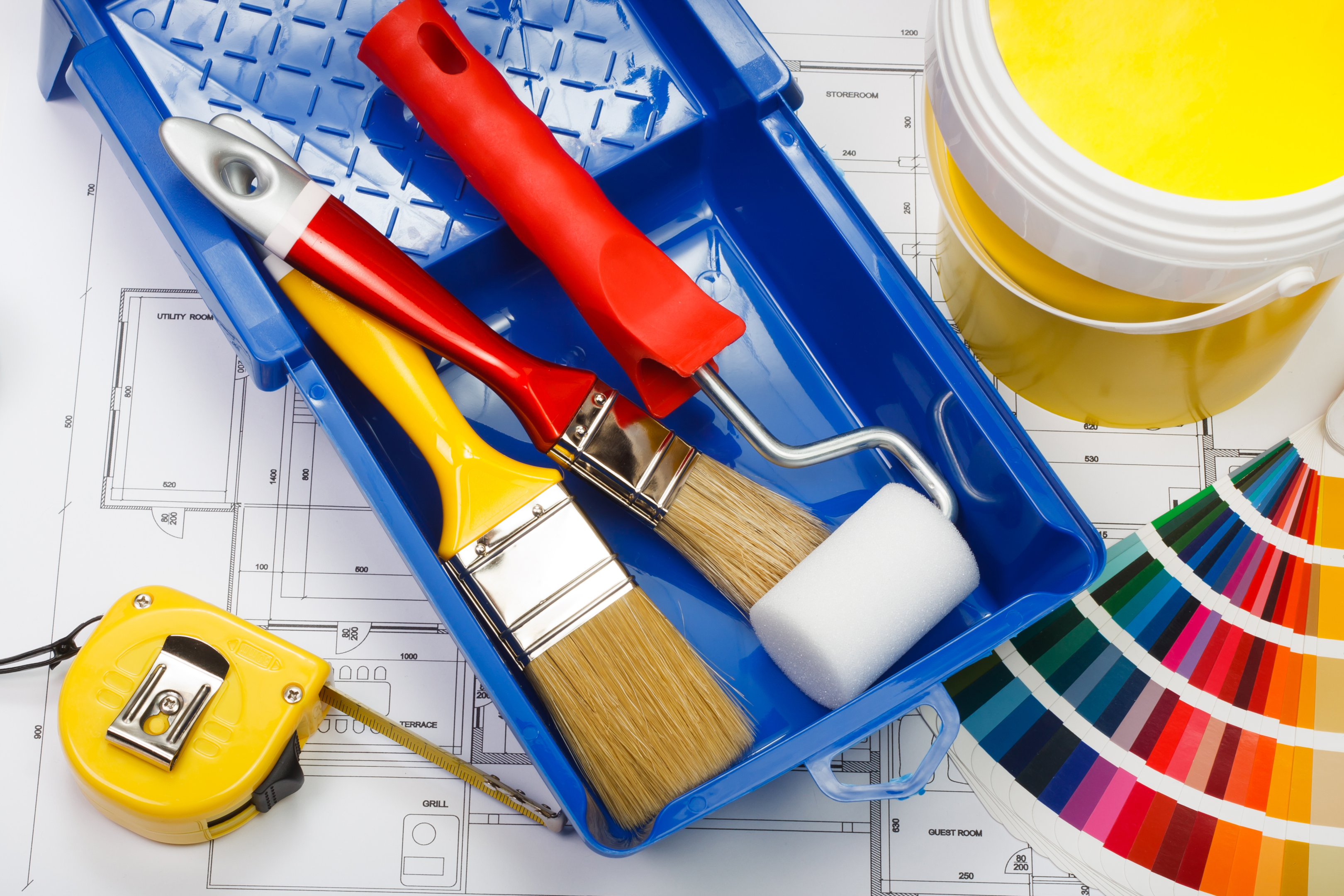 Other factors like height
Additionally, there may be areas that need extra attention due to their height or location, which can also increase prices.
Finally, painting larger homes requires greater care so that edges line up correctly which might require precision brushes, additional coats, and longer drying times – all of which add to the total cost.
Summary on Size
In summary, larger houses will almost always cost more than smaller houses when painting them due to the extra time and materials needed for completion.
Second, How much do you want to paint and to what extent
Scope of the job
The scope of the job will directly impact the cost of painting. For example, if you only want to paint the siding and trim on your home, which is normal, then the cost will be lower than if you wanted also to include things such as fences, decks, steps and a garage.
Work outside of the normal scope of work
Painting an entire fence or deck would be considered work outside of "normal" scope of work. This work will involve additional labour and cost, so it's important to consider this when budgeting for a job.
Accessibility
The accessibility of a house can have an impact on the total painting cost. Things like whether there are any trees blocking access or if ladders, scaffolding or a boom lift is needed.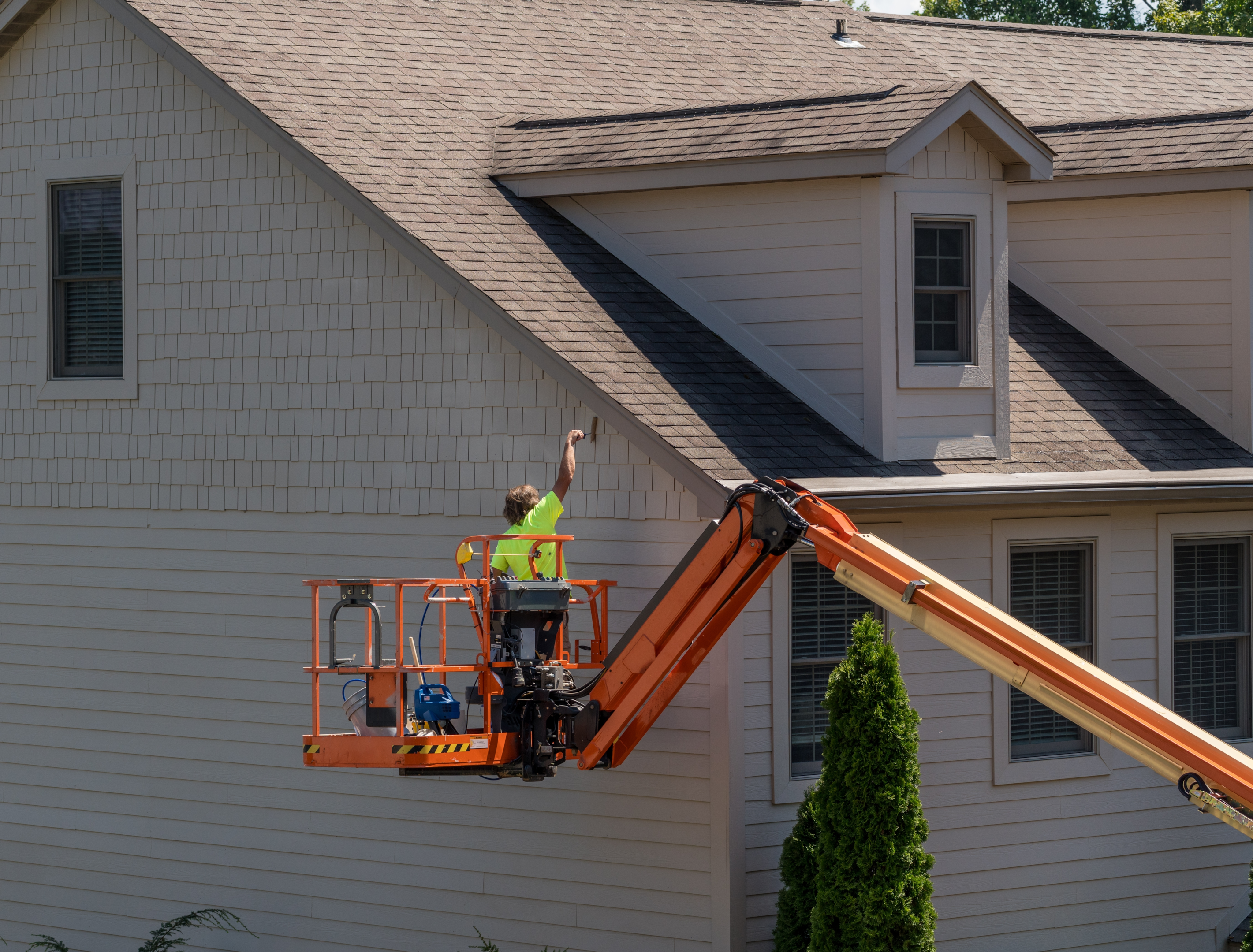 Differing levels of detail
Additionally, differing levels of detail can affect cost; for example, a homeowner who wants intricate trim work done will likely incur higher costs than someone who opts for a less complex design.
Preparation
The amount and type of preparation needed will also affect the cost. This includes scraping and sanding down any existing paint, cleaning the surface with soap and water, and caulking gaps in boards, trim, windows and doors. More preparation means a much better-finished product that looks better, lasts longer and increases cost.
Lead Paint
Lead paint often results in increased costs for homeowners and contractors. Those unaware of the dangers associated with lead in the home can face serious financial repercussions when renovating an older home.
Although lead paint was banned in 1978, many homes built before that date still contain hazardous material. Contractors must correctly identify and remove lead components before beginning a renovation project.
This requires specialized testing and materials and trained personnel to ensure that all lead particles or dust are disposed of safely. The environmental impact also needs to be considered when working with lead paint.
Considering the potential hazards associated with lead paint, homeowners should budget accordingly to cover all necessary costs and procedures if they plan on undertaking a renovation project with an older property.
Heritage homes
Painting heritage homes is often more expensive than painting other homes because they require specialized knowledge and, sometimes, a lot of carpentry repairs.
The cost of painting these homes can be very high, including repainting intricate details, materials that are more costly to source and labour costs. While heritage building owners are proud to care for their unique homes with the utmost attention, maintaining heritage paintwork can come at a premium.
Not only do professionals need to employ specialized techniques to preserve the architectural features of these properties, but they may also need to adhere to laws protecting them from modernizing or tampering with original elements. This results in higher costs than simply repainting a standard home – particularly when considering the labour involved.
All of these contribute to why painting heritage homes is an expensive activity and must be considered when budgeting for maintenance costs associated with these properties.
The end result on How much you want to be done
Ultimately, homeowners need to consider how much they want to be painted and to what extent they want the preparation done. Working with a professional painting contractor in planning and budgeting for your painting job ensures you get your desired results.
Third: Colour change or not.
Changing the colour of an exterior paint job can increase the time and cost of the work. It's important to consider the cost when deciding whether or not to go with a different colour.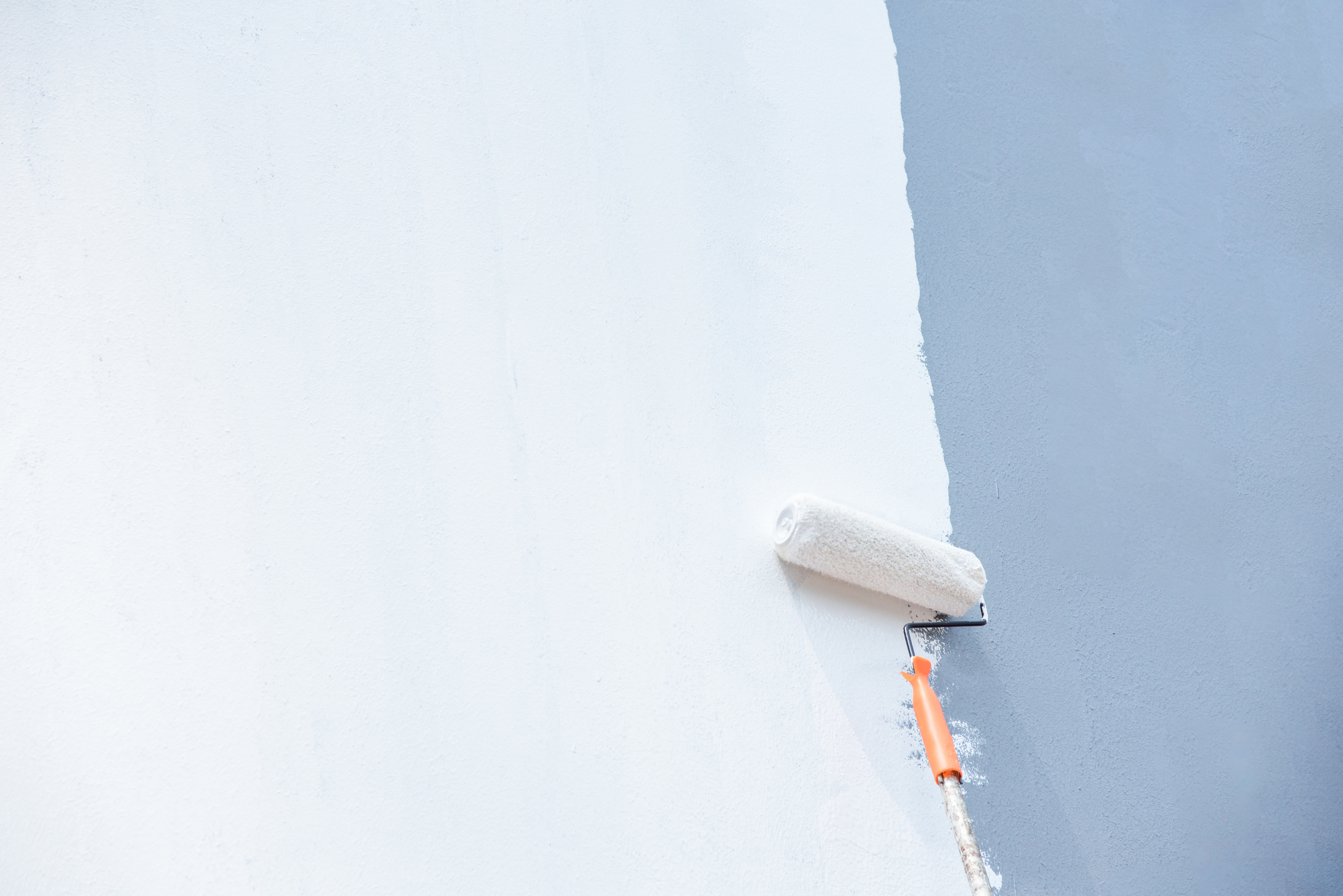 Two coats always required with a colour change
Two coats of paint are always required when changing the colour of an exterior. This means that the cost of painting a home will be higher if you change colours.
Not changing colours
If you're not changing colours, you'll need to do spot priming on all bare spots to ensure the wood is sealed. Knowledgeable Exterior painters in Vancouver will know how to do this so that the finish coat adheres properly and is uniform.
Use quality materials
Regardless of one or two coats, always use quality materials when painting your home, as this will reduce the overall cost and provide a much more durable finish. Quality materials such as quality brushes and rollers, primer and paint are important for a successful paint job.
Painting the exterior of a home can be a complicated and time-consuming process. Knowledgeable painters in Vancouver understand the different surfaces that need painting, how to prepare them and the best materials.
Different Surfaces and Processes for Maximum results
When it comes to exterior painting, different types of siding material and trim require different kinds of preparation and painting steps, which can ultimately impact the cost associated with the job. For newer homes, this task is usually simpler and straightforward, as newer materials are generally easier to paint.
On the other hand, older homes tend to have more ornate siding and trim that require a longer process of preparation before painting can begin.
These pieces often have paint that is in poor shape from years of neglect or exposure to environmental elements, so they need to be thoroughly cleaned, sanded, primed, repaired for any damage or rot, and caulked before they can be painted. This increases the time spent on each project and therefore increases the cost associated with it.
Common types of siding
In Vancouver, there are many different types of siding that can be found on the exterior of homes. You will frequently find stucco siding, which is a cement-based material composed of an aggregate, a binder, and water. It's durable and resistant to moisture, making it ideal for coastal areas like Vancouver.
Cedar siding is also popular in the area. It adds natural warmth and beauty to any home while also providing protection from the elements. When people refer to wood siding, they generally mean cedar.
Fiber cement siding is another common choice in Vancouver due to its durability and fire resistance. This type of siding can be painted to fit in with any home style.
Siding types that are not commonly used in Vancouver
Siding that can be found in Vancouver, but is not normally seen, would be metal siding, aluminum siding. On older buildings you may find brick installed on them, especially in Yaletown and Strathcona. Brick, stone and cultured stone can be found as accents on a home.
What about Vinyl Siding?
Vinyl siding is popular among homeowners who are looking for an affordable option that still looks great. You will find it on homes that were built with budget in mind. Most projects that you find this these days are rental properties or on older homes.
Vinyl siding has a cheap look and feel and is not at all common in Vancouver. A painter in Vancouver, who is worth their salt, will know that you need to use vinyl safe paint. This also applies to any other vinyl product that you may want to paint, such as vinyl windows.
Trim and the Impact on House Painting Cost
In Vancouver, there is a wide variety of exterior trim found on homes. Older homes often feature a lot of detailed wood trim, such as wood windows. The wood may be in various states of disrepair, with peeling paint and damaged wood.
Newer homes tend to have much simpler trim. Windows can be vinyl, which usually doesn't require painting or maintenance beyond occasional cleaning. Properly painting trim is about half of any total exterior house painting cost.
The end Result
Preparing surfaces appropriately before application of paint can significantly improve the lifespan of any finished product as well as help reduce costs in the long run due to less frequent repainting cycles.
Fifth: Paint quality.
The quality of paint will have a major impact. Higher-quality paints are more expensive, but they are worth it in the long run because they offer superior coverage, hiding and durability.
For example, Benjamin Moore Aura offers exceptional hide and colour retention, resisting fading for up to 15 years, which makes it well worth the upfront cost.
Premium exterior paints also provide greater protection against environmental elements such as UV exposure, moisture damage, mildew growth and other factors that can impact a paint job.
Buying higher-quality paint is essential for maximizing the lifespan of your exterior painting project and making sure it looks great for years.
Lastly: Damage and rot.
Damage and rot need to be addressed before painting. Rotten wood is typically found on siding, railings, wood steps where it is exposed to water and often can be hidden from view.
The costs to repair or replace rotten surfaces can quickly add up and should always be factored in when estimating the cost of exterior painting.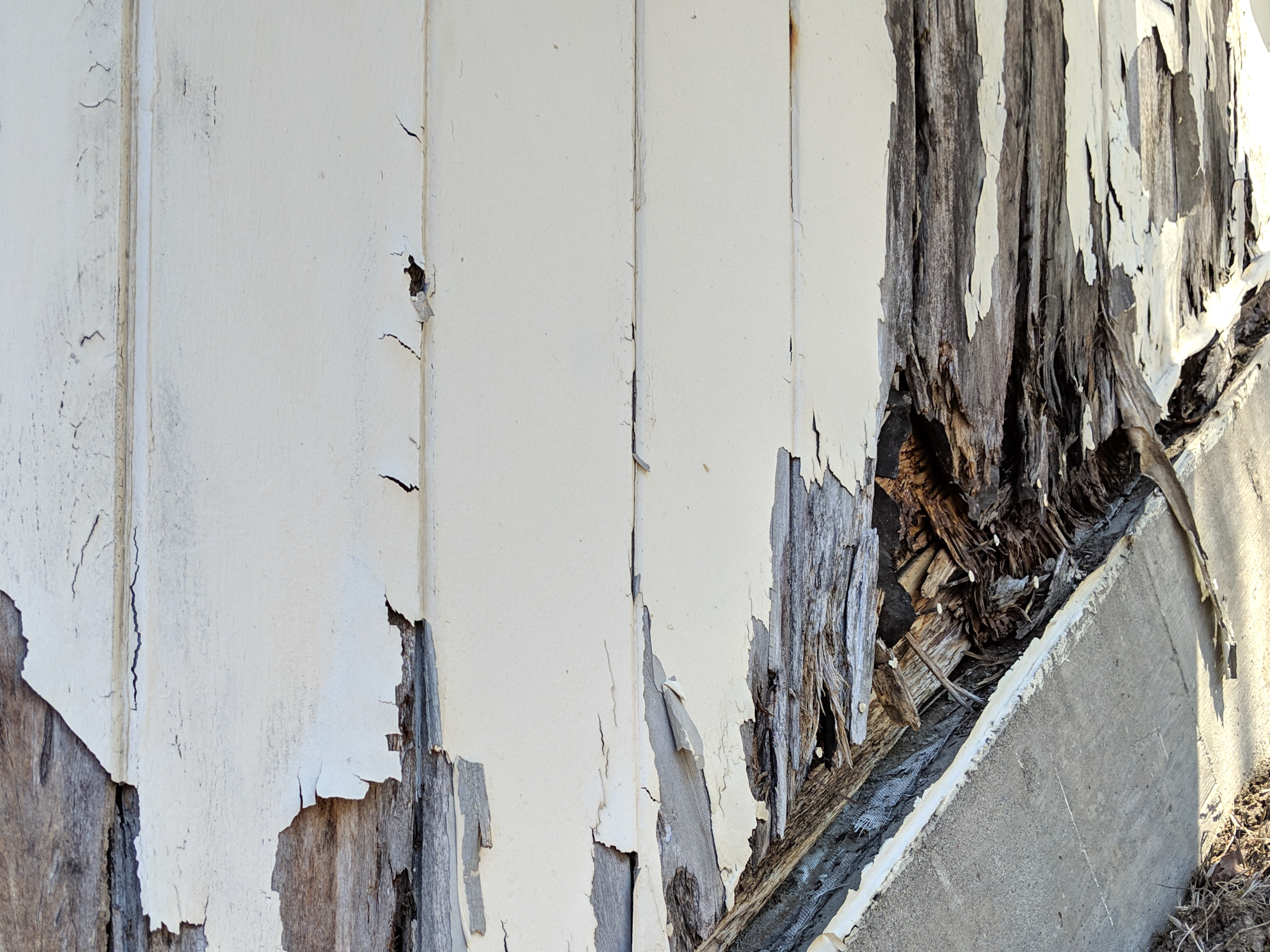 Repairs in place with epoxies
Two-component wood epoxy is an excellent choice for repairing wood trim. This epoxy is composed of a resin and hardener that, when mixed together, create a very strong bond to the wood.
It also stands up to harsh weather conditions and creates a waterproof seal that helps protect the wood from water damage. Before applying the epoxy, it's important to prepare the surface by removing any loose and rotten wood and wood fibers.
Once the epoxy is dry, you can sand it smoothly to blend with the wood before priming and painting. Due to its superior adhesion properties, two-component wood epoxy will last much longer than traditional filler materials such as putty or joint compound.
Replacing versus rebuilding
Sometimes all you need to do is replace a board or two, and at other times you will need to have whole areas rebuilt. A competent contractor will be able to discuss this with you and develop options. Small repairs can be as little as a few hundred dollars compared to rebuilding front stairs, costing $15 to $20,000.
Plan for possible disruption
Time delays caused by addressing hidden damage can be costly as well as disruptive if it has not been taken into account prior to starting the project. Homeowners should take proactive measures when preparing their home's exterior for painting by identifying any areas that need repairing or may need repairing.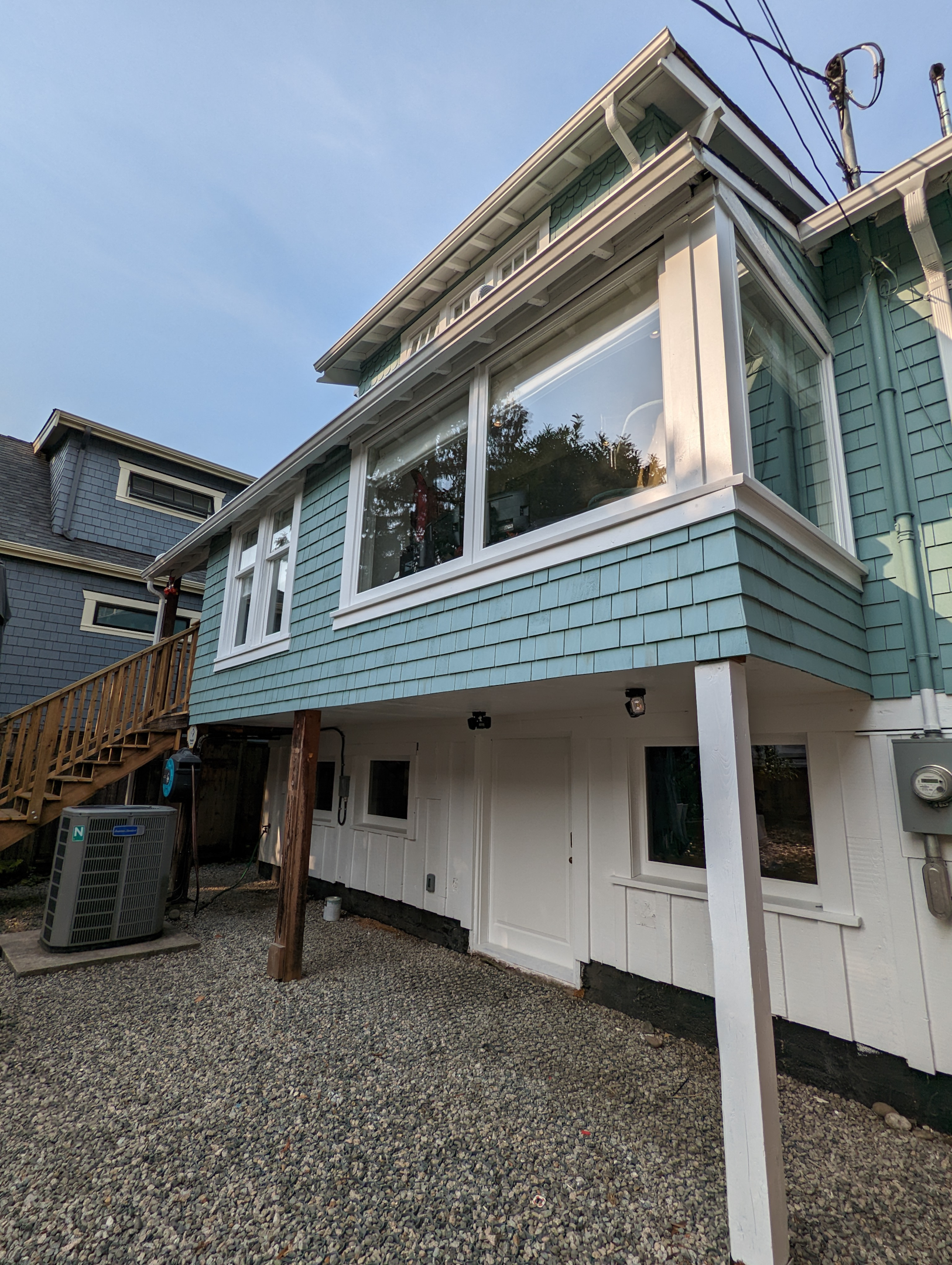 Conclusion on exterior house painting cost in Vancouver
Exterior painting is a cost-effective way to improve the curb appeal of your home and make it look more attractive. Depending on the size of the house, the complexity of the job, and the paint used, the cost to paint a house's exterior can vary significantly.
Most homeowners spend between $15,000 and $35,000 for professional exterior painting services. The cost may be higher for larger homes or ones with repairs.
How to get the best value
In order to get the best value for their money, most people opt for a combination of quality paint and experienced painters that can do an excellent job in a timely manner. It is important to keep in mind that exterior painting should be done every 12 to 15 years in order to maintain its quality and look its best.
At Renaissance Solutions (Painting and Carpentry), we want you to get the most out of your house painting costs. That's why it's crucial that you hire a reputable Vancouver Painting Company for a quality job that will last.
Give us a call and let's set up an estimate so we can determine what kind of paint coverage your home exterior needs as well as discover what type of finish meets both your expectations and preferences!
Bring out the best in your home by giving it a fresh coat of paint!
Social Media
Youtube @RenaissancePainting
Twitter @PaintHomesRight
Instagram @renaissancepainting
FAQ
Does exterior house paint cost vary within Vancouver BC?
Yes. Painting contractors will price a bit differently based on a number of factors, such as travel time.
How do you dispose of old paint?
everyone pays an eco levy when they make a purchase at the paint store, including professional painters. Cans of old paint can be returned to various depots as long as the labels are still on the can.
Is there a per square foot for removing paint from exterior walls?
Exterior walls are called siding. You can get flaking paint stripped, or removed, for $5 to $12 per square foot.