You are thinking of a house painting project and you have many options, like, who to hire; but you want to make sure that the job is done right. This article will outline your options for hiring painters in Vancouver, whether it is just to get your doors painted or to find out the cost of a new coat for your interior.
There are two main types of painting, exterior house painting and interior painting. While similar the painters required for the job are different in temperament and skills. Make sure that whoever you hire has the crew, and experience to do the type of job you need to be done.
Professional Painters in Vancouver BC
When hiring professional painters you want to find somebody who is reputable, provides exceptional service, and has done painting projects like yours. You don't want to be the guinea pig for somebody new to the scene. A good way to find out about a painter is by asking for referrals from friends or family or by looking online for reviews.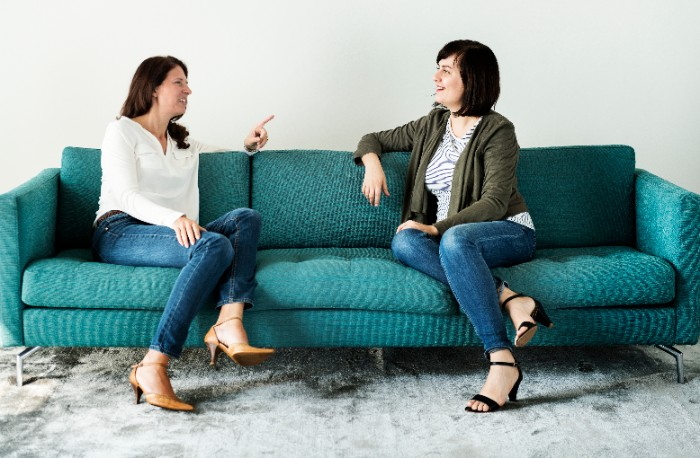 Where is the best house painting service in the Vancouver Metro area?
There is no one best service. Determine what your needs are for the painting job that you want and also what kind of contractor or crew you want your house painted by. For example, if you are looking for exterior house painting services then look specifically for a painter that does that and has lots of good references.
Why do some people say Vancouver BC instead of just Vancouver?
The answer is very easy. Because of Vancouver in Washington state. Sometimes Google will send you there if you forget. But not always. Google is getting pretty good and it will know where you are typing in from and guess, correctly, which Vancouver you want.
When searching for painters should you specify particular lower mainland cities?
Depends on personal choice. If you live in Horseshoe Bay, maybe you prefer hiring someone locally in which case type in West Van or North Vancouver. Some painters will travel long distances but most are going to prefer working closer to home. I mean if you live in Maple Ridge driving to New Westminster is hard enough, imagine driving to Vancouver.
What about the paint job impacts the cost to paint?
First off, if you're hiring a professional, they will have a clear and organized painting process that takes care of all the details. This will result in a painting project that does cost more in the short term. However, in the long run, for your home's painting requirements, it will be better valued as the job will last longer and look better and the crew will, likely, be more professional and easier to deal with.
Another huge factor is how many square feet in size is your house. A three-bedroom home of 1200 square feet will be half as much to paint as a house twice the size. A large component of the cost will be what surfaces are being painted and what condition they are in.
Interior painting process
Common painting services include setup, ceilings, walls, painted trim and a thorough cleanup.
Experienced Professional painters and how they set up the job
Interior painting requires a thoughtful approach as the areas being painted are inside the house and there is usually furniture, cabinets, and either carpet, hardwood floors or both. They will want to protect everything not being painted with drop cloths, masking paper and/or plastic.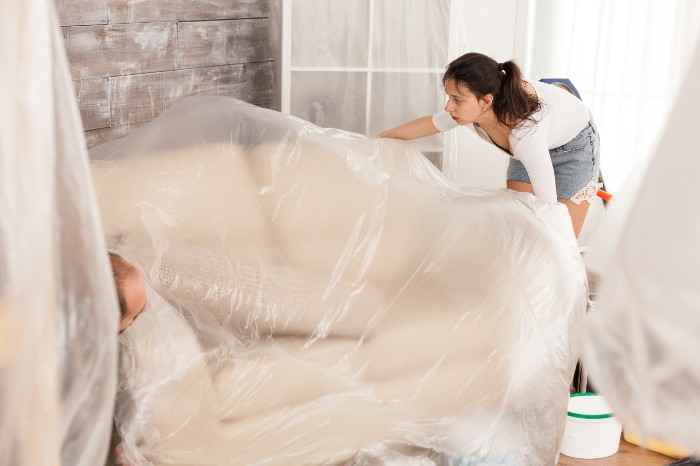 Ceilings
If they are going to paint ceilings then they will be done at this point. Popcorn ceilings, if not painted already should be sprayed using a paint sprayer. Flat ceilings can be sprayed or rolled.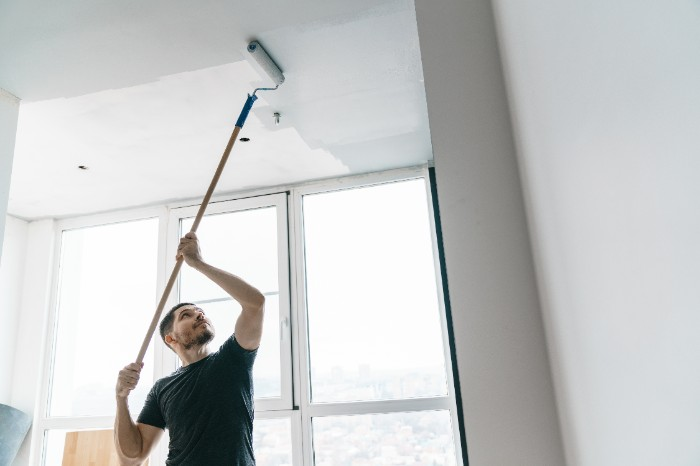 How can you bring New Life to Old Trim?
Easy, paint the trim, one coat, in colour and sheen that matches the existing trim paint already there. This will keep the cost down. Adding two layers, or coats, of paint increases the cost by about 75%. Trim is normally window sills, doors, door jams, casings and baseboards. Some houses will have crown molding and other types of premium trim such as wainscoting.
What exactly are door jams?
The correct spelling is actually door jambs and for some reason, people write it without the letter "b". I added both spellings for ease of use for the reader. Been extremely professional, the term "jamb" refers to the side-post or lining of a doorway or other aperture. The exterior jambs of a window are called "reveals." When referring to small shafts located by doors and windows, they are known as "jamb-shafts"; however when these shafts are featured on the inside arris of the jamb of a window, they sometimes go by the name "scoinsons."
Walls
Painted walls are easily the biggest bang for the buck in house painting. You can transform the look and feel of the whole home and the cost is pretty reasonable, about $4500 for a three-bedroom home.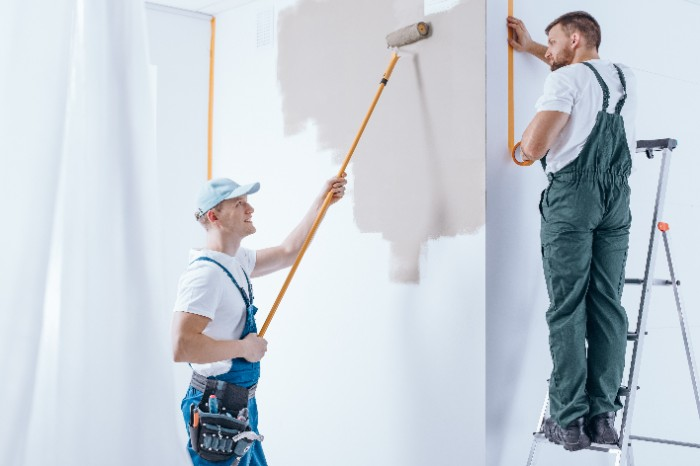 The important point, when you paint walls you must protect the floors and furniture from paint dripping or splattering.
What about the Cleanup?
Upon completion, professional interior painters will do a thorough cleanup. This will include removing all tools, equipment, and garbage. They will take down all plastic, and pull up all paper and masking tape. Furniture will be returned, carefully and leftover paint will be labelled and stored away.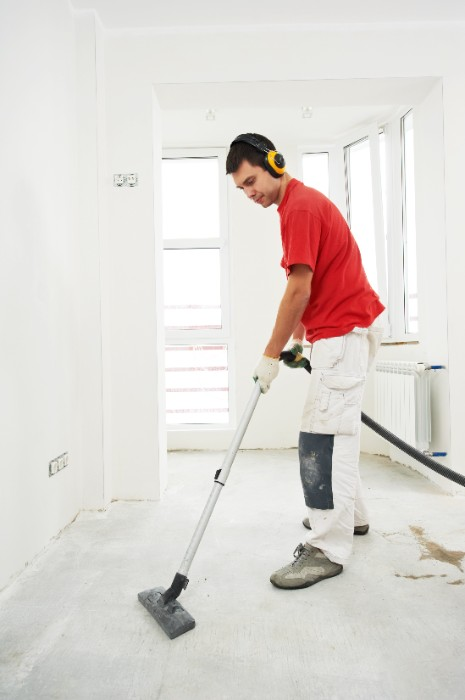 Most good quality paint is low, or zero, VOC such as Benjamin Moore or Sherwin Williams, but you will still get that fresh paint smell. The cost of premium paint is worth it.
At this point of the project, a professional painter will do their touch-ups and take care of any small items not done.
Just make sure that when you are hiring a painter for your interior painting project, ensure that they have experience and good references.https://renaissancepainting.ca/how-to-get-paint-smell-out-of-house/
What it takes for experienced painters to complete an exterior paint job?
Exterior house painting is broken down into prep work, paint the soffit, or eaves, the siding, windows, and doors and then paint any miscellaneous items like exterior stairs.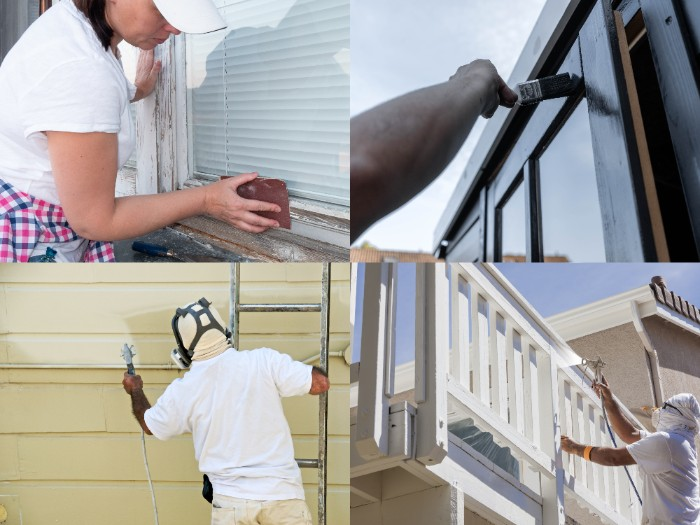 Newer homes will have vinyl windows and you will only have the window frames painted. Other painting services could include power washing, carpentry repairs, deck restoration, and deck staining.
Your home's exterior takes a real beating from the weather. Heritage homes will have lots of old paint layers. A professional painter will know how to set up ladders, the correct type and the levels of preparation that are required.
On some homes, the exterior siding is in such poor shape that the cost to paint it can justify replacing some, or all of the siding.
A great way to improve curb appeal is a fresh coat of paint on the front of the house.
How to hire a professional so you'll know the cost to paint your home?
One of the best places to get a good painter is a referral from a friend, or family, online or at a local paint store. Do your research, check references, go online and check reviews.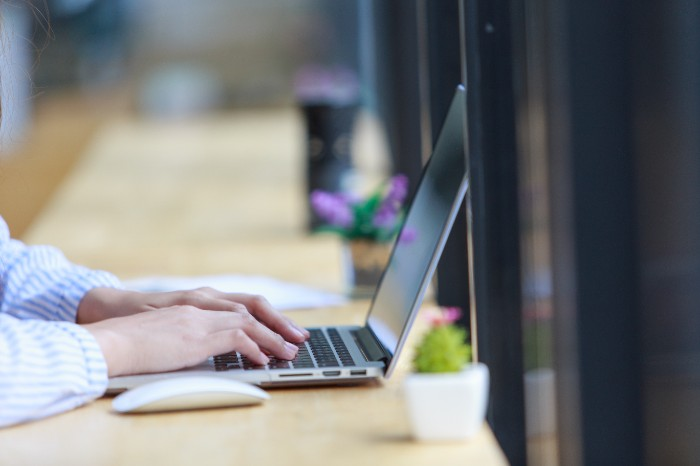 A lot of companies are happy to come to your home and give you a free estimate. Our method is to get photos, ask good questions and then give a rough estimate over the phone. We have found that this adds a lot of value as this saves time for everyone. Coming up with a flat price for an interior job is easier than an exterior but with years of experience and modern technology we can come up with a pretty accurate range of prices for most projects.
Design Consultation
After discussing different options and pricing one of two things will happen. Homeowners, like yourself, will say "sounds good, come on out get me a firm price and let's get on the calendar". Others will say, "we are pretty close to making a decision we just need a little confirmation, can you come out and do a walk-through with us?"
This is what we call the Design Consultation phase.
For all jobs, we work out a detailed scope of work, do project planning, work out colours and do colour sampling as required. For interiors, we do a digital floor plan showing where colours go, and for exteriors, we create a 3D model of the house and create a photo-realistic digital mockup. The cost for this is $250 to $400 and is part of the job. We have found that spending this time front saves a lot of miscommunication and issues down the road.
Factors that affect the cost
things that will affect the price for interiors, how many square feet is the house, are they regular height walls or are the walls higher than 8 feet? For the exteriors the age of the building, the amount of preparation to be done and how tall is the house.
In conclusion
We hope this article has provided you with some insight into house painting and what it takes to get the job done professionally. The cost of house painting varies widely depending on the size, condition, materials used, and labour required. It is important to do your research before hiring a house painter and make sure they have experience for your particular job.
At Renaissance Painting and Carpentry, we're the experts in changing the look of a whole house or a single room. In addition to our comprehensive painting services, we also install mouldings and remove popcorn ceiling texture. If you need help making a decision, let us take care of the hard work while you sit back and relax!
Check our process designed with you in mind!