We often forget about the ceiling when we're painting a room. But the truth is, the colour of your ceiling can significantly impact the overall feel of the space. So, what colour should you paint your ceiling? Read on to find out!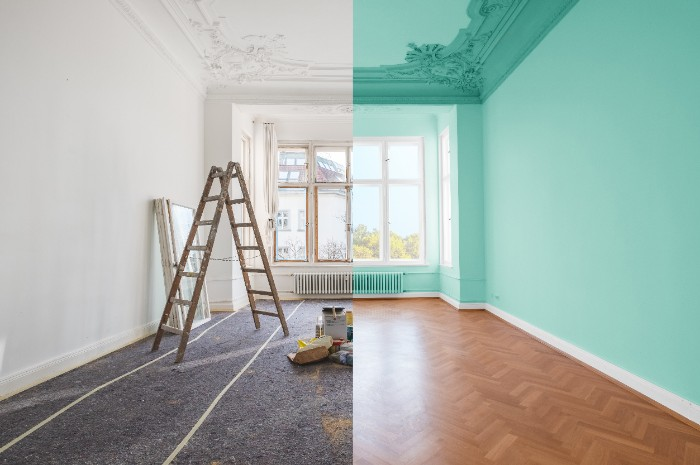 Eye upwards: is your ceiling revealing signs of age?
No matter what look or feel you're going for, there are basic practices every homeowner should keep in mind when choosing a ceiling paint colour.
Maybe your ceiling is scratched or revealing signs of age. If this is the case, you should begin by patching any cracks or holes before applying a basic primer or sealer.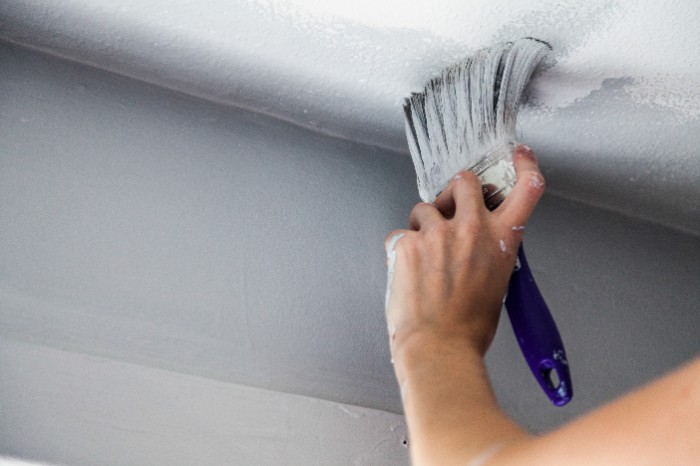 After the basic repairs, perhaps you want to add a bit of drama to an otherwise understated room with vibrant color, or maybe you want to create a more prominent and open space.
If you're considering painting your ceiling, Renaissance's expert team of residential painters is here to help you make the decision.
Keep the following in mind when choosing a ceiling paint color:
The tone of the surrounding walls. Choose the same color ceiling paint that is complementary to the shade of your wall.

Consider the amount of sunlight the room receives. Low-contrast ceiling color will reflect more light, making the room appear brighter whereas a few shades darker can create a cozy atmosphere and make the room feel smaller.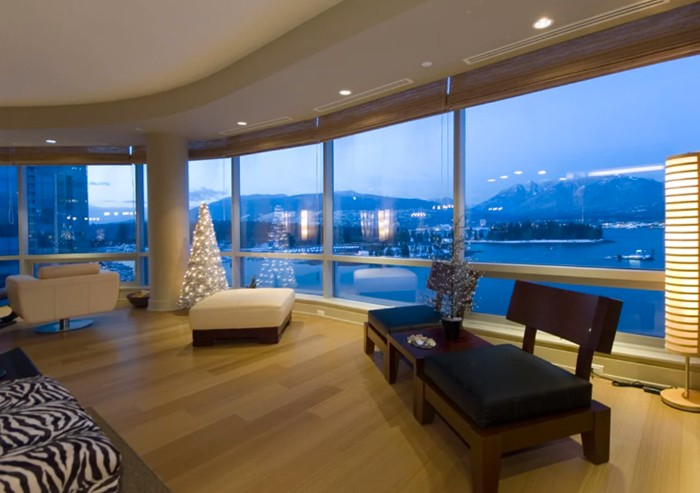 The purpose of the room. For example, choosing lighter tones for a nursery or office gives it an open and airy feeling. Darker shades are great for a family or living room.

With your style, finding the right balance between choosing something you love and making sure it fits in with the rest of the decor can be difficult. Take your time and experiment with different colors until you find the perfect one for your space.

If the space has limited lighting, you'll want to avoid dark colors as they will make you feel smaller and more claustrophobic.

Once you've decided on the primary hue, it's time to pick a shade.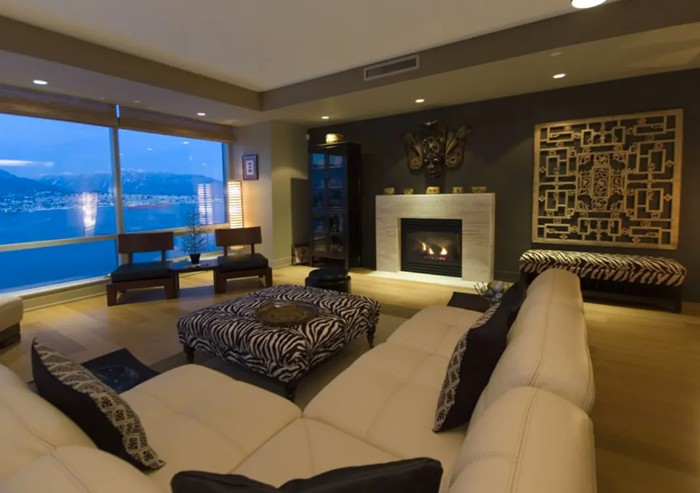 Take inspiration from our portfolio and pick the right idea for your home.
Painting ceilings Basics
Painting ceilings is easier than it may seem. Follow these recommended practices to ensure a successful outcome.
Prepare the surface appropriately
Painting over cobwebs and dust is not recommended. Use clean water and a soft rag or sponge. You can even try a feather duster for the cobwebs if the ceiling is already mostly clean.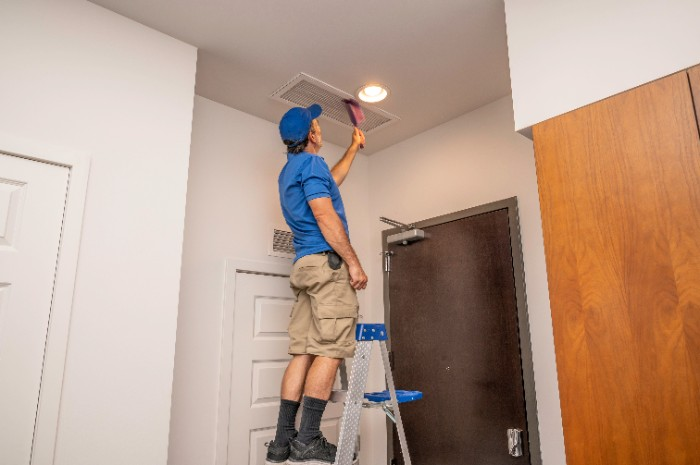 Wait for the surface to dry before painting, of course.
Use a high-quality paint primer before applying the final paint color to help create a smooth, durable finish and promote adhesion.
If you have a popcorn ceiling, do not attempt to paint it yourself; always hire a professional. These ceilings commonly cover insulation, which can be dangerous if not handled carefully.
White ceiling paint
A popular color choice for ceilings is white with a flat finish. Bright white paint reflects the most light and helps to brighten up a room, making it appear larger. It also complements any neutral color on your walls.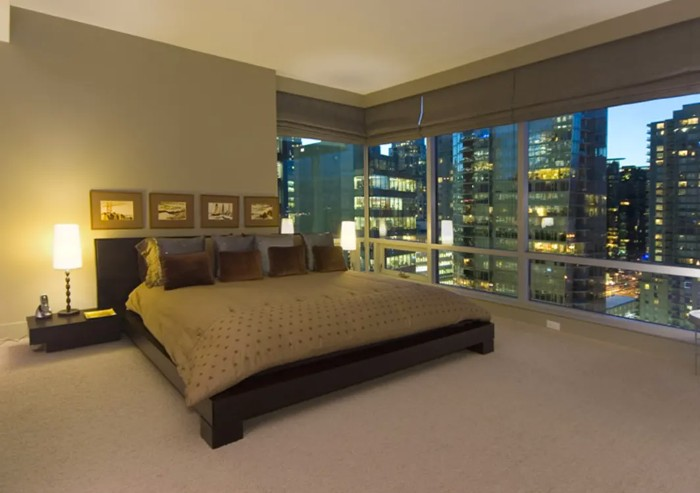 There are many shades of white to choose from, which can be overwhelming to pick at first glance. Try to match this with the style of the room and wall color, rather than deciding on a whim. Many paint manufacturers offer their basic white shades to keep them in line with what the rest of your home looks like.
The type of paint sheen you use will also make a difference. Use a high-quality flat or matte finish for ceilings, as this will help reduce glare from overhead lighting. Never use a semi-gloss or high-gloss finish with ceilings. A flat finish will always be your best bet.
Lighter Color
Painting the ceiling in a light shade is always a good design choice, regardless of the size of the room. Lighter colors like off-white or sky blue also reflect light, making the room appear brighter and larger. These colors also contrast your wall color without being overly dramatic.
Darker ceiling paint colors
Making your ceiling darker than your walls with a tone such as navy blue or charcoal gray can add a dramatic effect to a room and are perfect for rooms with low natural light. A darker shade can create a cozy atmosphere and make the room feel smaller. In addition, they can serve the purpose of hiding any visible imperfections.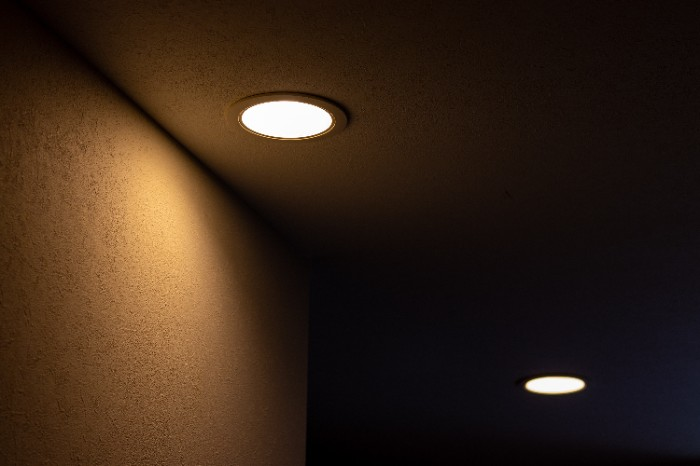 When you aim for a dark ceiling, make sure to use high-quality paint that is specifically designed for ceilings as this will provide better coverage and help prevent staining. Additionally, use light-coloured trim or crown molding around the ceiling to break up the darkness.
Darker ceiling colors can also be used in rooms with high ceilings and even vaulted ceilings. Once again, this will help to make the room feel cozier and more intimate.
Practical Considerations
Personal taste
This should be the primary factor when choosing a ceiling paint color, but it is important to keep practical considerations in mind as well. Make sure to think about the tone of the surrounding walls, natural lighting and the purpose of the room before making your choice.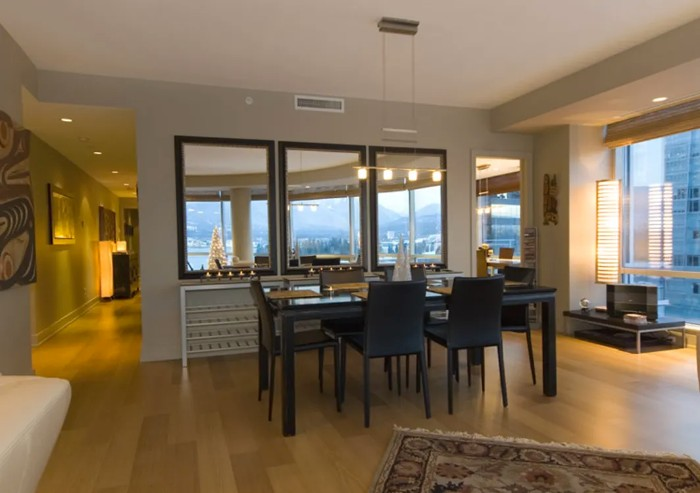 Small spaces
If the room is small, it is best to opt for lighter colours as this will help make the room appear larger. Darker colors can make a small space feel claustrophobic.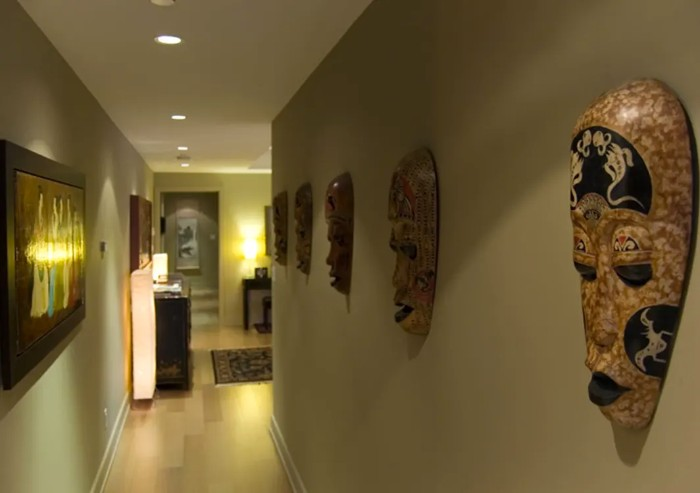 Low natural light
When there is limited lighting, darker colors should be avoided as they will absorb light rather than reflect it. Choose lighter tones to create a brighter atmosphere.
Low ceilings versus high ceilings
Ceilings can be painted with darker colors to create a dramatic effect but it is best to opt for lighter shades for lower ceilings as this will make them appear higher.
Architectural features
Ceilings may benefit from basic colors such as white or light gray to keep the focus on any elements such as crown moulding and baseboards. Darker shades can be used in combination with lighter accents to create a more dramatic effect.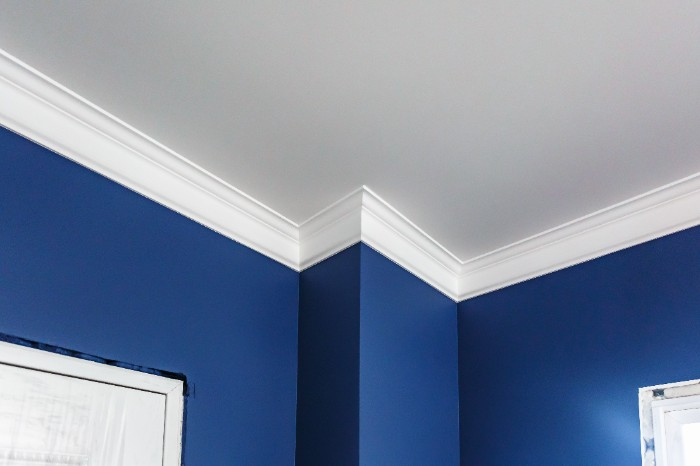 No matter which color you choose, remember to always use high-quality paints and follow basic painting practices when applying it
Flat ceilings
According to experts, the best way to paint a ceiling is by using a paint roller in grid-like sections that are 3 square feet to 5 square feet each. This method keeps edges wet and allows you progress check your work for an even coat. If you have smooth ceilings, use a low nap roller.
Flat ceilings can be painted with any color but if you have unique features such as beams or exposed pipes, then choose lighter colours to highlight them. Darker shades can make these features appear dull.
Textured ceilings
When painting textured ceilings, a thicker paint will fill in the texture better than thinner paint. For the best results, use a roller with a medium nap so that the product smoothly covers all areas without missing any spots. A sprayer will give you much better coverage when trying to apply stippled or popcorn ceiling textures.
Coffered ceilings
The ceiling style often have unique curves, angles and patterns. Features such as these serve to draw the eye upward and can transform the atmosphere of an entire room. A white ceiling works best with this style as it offers great contrasting color. Coffered ceilings provide natural shading, they are perfect for use in rooms with large windows. Additionally, you should use high-quality paint with low VOC content to ensure that the finish is even and professional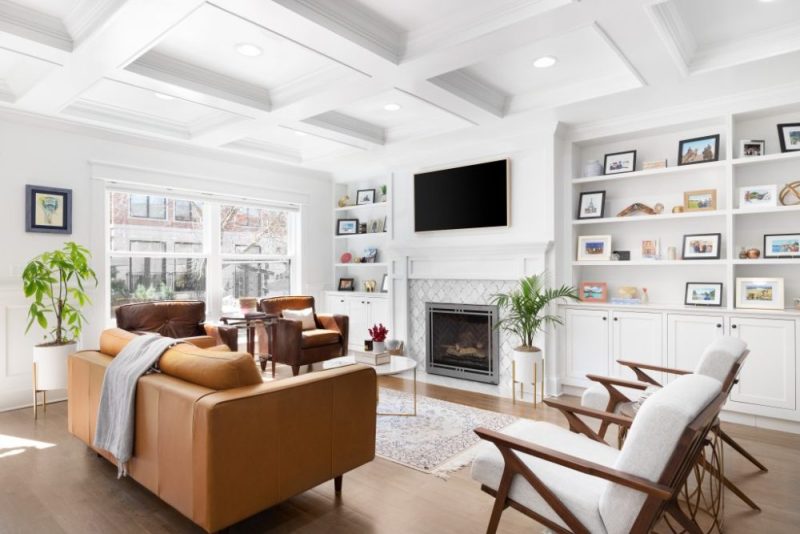 Additional Factors to keep in mind
A few things to consider for your next painting project:
The color should be chosen to complement the existing décor and furniture.

Curtains should simply complement the wall paint, the furnishings, and the desired atmosphere of the room.

Prepare the surface properly before applying any product. Make sure to use sandpaper and cleaner to ensure proper adhesion of the paint.

Use a dropcloth or tarp to protect your flooring from paint drips.

Make sure the room is well-ventilated to avoid inhaling fumes.
Now that you know the basics, it is time to start thinking about what color you want to paint your ceiling. Although personal taste should be the primary driver in this decision, it's essential to be mindful of practicality.
If you want a professional-looking paint job on your ceiling, it's best to hire someone rather than trying to do it yourself and end up with subpar results. Renaissance Painting and Carpentry is the Greater Vancouver Area's trusted and reliable company in interior painting. Additionally, we remove popcorn ceiling texture, install mouldings, refinish kitchen cabinets, and of course, we paint ceilings! leave the hard work to us! If you're struggling to choose, we would be more than happy to help.