Your kitchen is one of the most essential rooms in your home. Not only is it where you prepare meals, but it's also often used for entertaining guests. That's why choosing the right paint colors for kitchen walls is so important.
Whether you're someone who prefers subdued colors like white and greige or likes a pop of bright bold color, there's an option for you here. The good news is that there are plenty of great options out there, whether you're looking for something fresh and cheery or more subdued and calming.
Here are a few of our favorite kitchen colors to help get you started!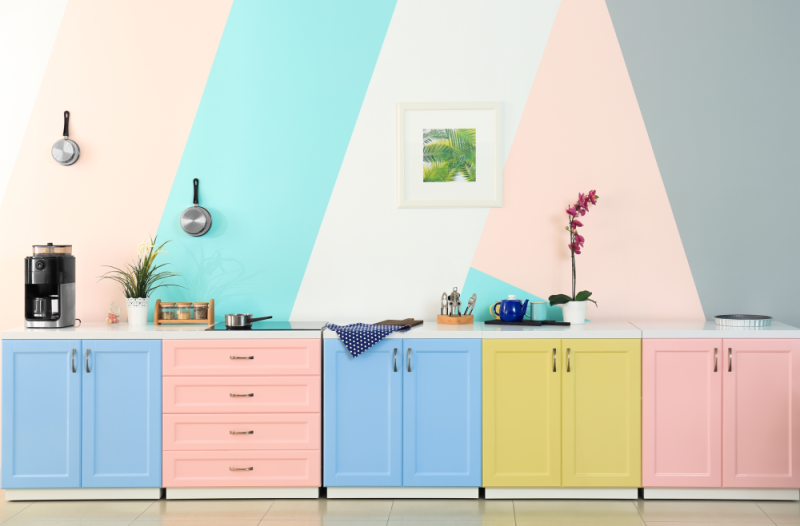 Kitchen colors for walls and what feeling you want to evoke
When selecting paint colors for your kitchen, it is important to consider the feelings you want your kitchen to evoke. These feelings can vary from person to person, but creating a specific mood in your kitchen should be of primary concern. To achieve this goal, research into color theory has suggested utilizing certain hues in a space to create a desired emotion.
For example, blue is often associated with tranquility while yellow and red are usually considered energizing and vibrant shades. If you want your kitchen to be inviting and cozy, perhaps opt for warm shades such as earth tones but if you're looking for something more luxurious and exotic, go for brighter or deeper colors like blues or oranges.
Whatever feeling you decide to invite into your kitchen will influence everything from the appliances and furniture down to the food that's cooked there. Consider carefully what atmosphere suits your family's needs best before making any decisions.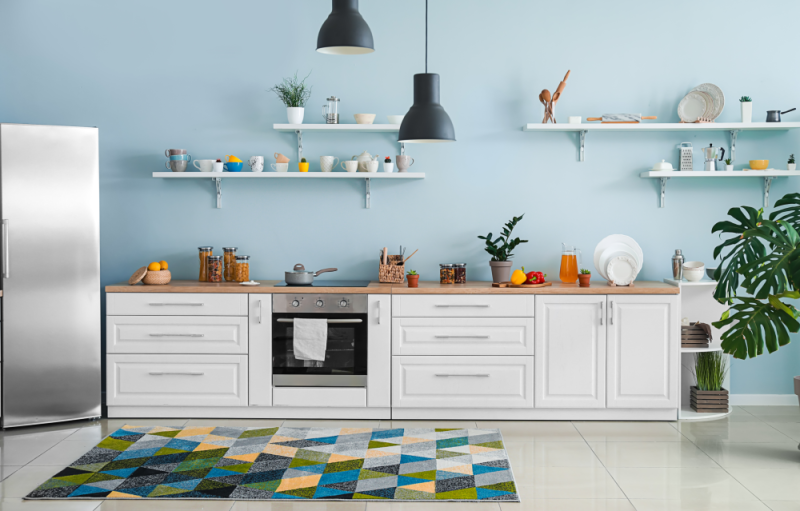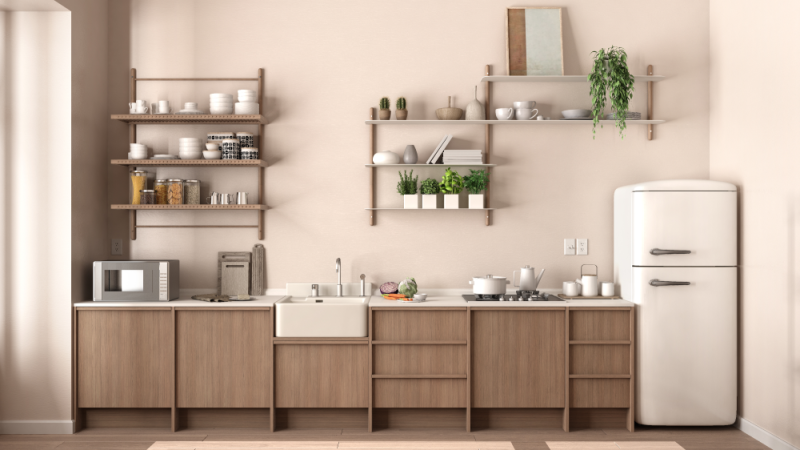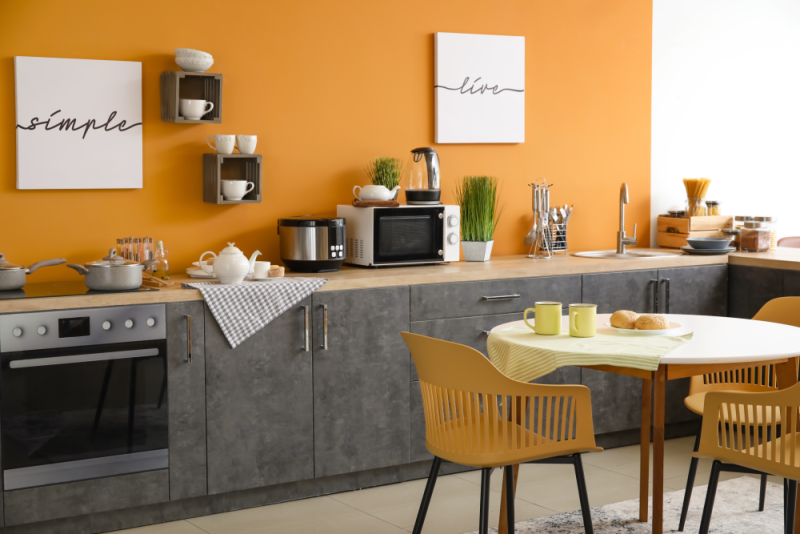 Kitchen designed with Paint Finish
In addition to color, another thing you'll need to decide on is the paint finish. The most common types of paint finishes are:
Glossy paint is very reflective and easy to clean, making it a good choice for areas that see a lot of activity like kitchens.

Semi-gloss paint has less shine than glossy paint but is still fairly reflective and easy to clean.

A satin finish is an ideal multi-purpose paint for any wall in a home with children, as it can withstand repeated cleaning.

Eggshell and matte finishes have little to no shine and aren't as easy to clean as glossy or semi-gloss paints, but they can help hide imperfections in surfaces better than paints with higher sheens.

When choosing a paint finish for your kitchen, it's important to consider the amount of traffic and activity in the room. For instance, glossy paint may be best for a kitchen that sees a lot of spills and messes, while eggshell or matte finishes can work better for kitchens with less activity. Though people often think satin and eggshell finishes are the same, satin is a bit brighter and can be easily cleaned while also being resistant to mildew, stains, and dirt. While semi-gloss paint is more often used for woodwork, it can also be a good choice for walls in high-use areas like kitchens and bathrooms.
Painting your kitchen is a great way to give it an instant makeover. With the right colors and paint finish, you can transform your kitchen into a space that you'll love spending time in
Consider the size of your kitchen when choosing colors
When decorating a kitchen, consider how much natural light the space receives and think about the contrast with other accessories like brass hardware, cabinets, appliances, flooring, and lighting when deciding on color choices.
If you have a small kitchen, light colors will make it seem bigger
If you have a small kitchen, don't despair! Using crisp white and light blue shades to decorate can create the illusion of spaciousness. A few coats of sky-blue paint on the walls make the room look wider and higher. Perfectly combining crisp whites and light blues will not only open up any compact kitchen, it will also create an inviting atmosphere. Incorporating these colors into furniture, cabinets, and kitchen backsplash will further enhance the feeling of roominess.
Bright colors can also help to make a small area seem more cheerful and inviting. A subtle shade of eggshell or beige are great choices that won't overwhelm the senses, while still giving your small space personality with brass accents.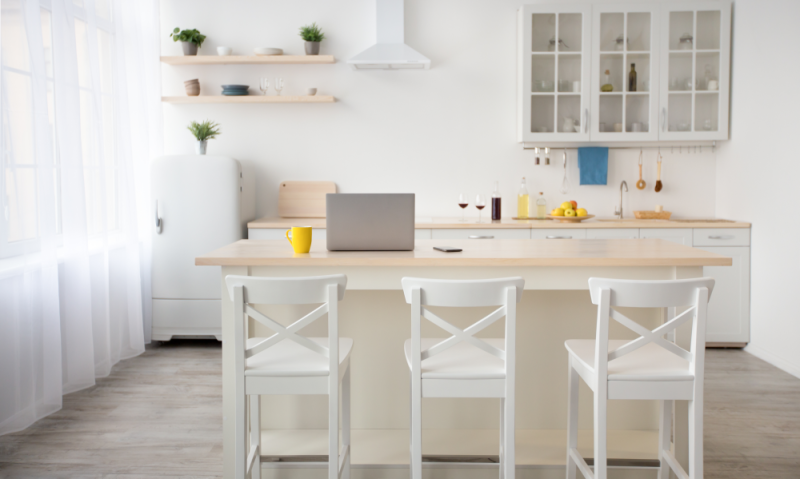 Kitchen wall color ideas for larger spaces
When choosing a color for your kitchen, it's also important to take into account the overall aesthetic of your home. If your kitchen is on the larger side, you have more options when it comes to color choice. Warm and cool shades of gray, blue, green, and yellow can be combined with your preferred tile backsplash or if you have brick walls, used to create an inviting atmosphere. Rich colors like deep blues and greens work well in large kitchens with plenty of natural light. If your kitchen has a lot of windows, bolder shades are an excellent way to add depth and contrast to the room while still providing a sense of warmth and comfort. If you are into bold colors, consider selectively painting just one wall or trim to fashion an accent wall. Further, if there is an island, applying a fresh coat of paint or staining the wood can be an excellent way to give the room an extra dimension.
You want the colors you choose for your kitchen to find the perfect complement to the rest of your house. If you're not sure what colors would work well together, consulting with a professional painter or designer can help you narrow down your choices.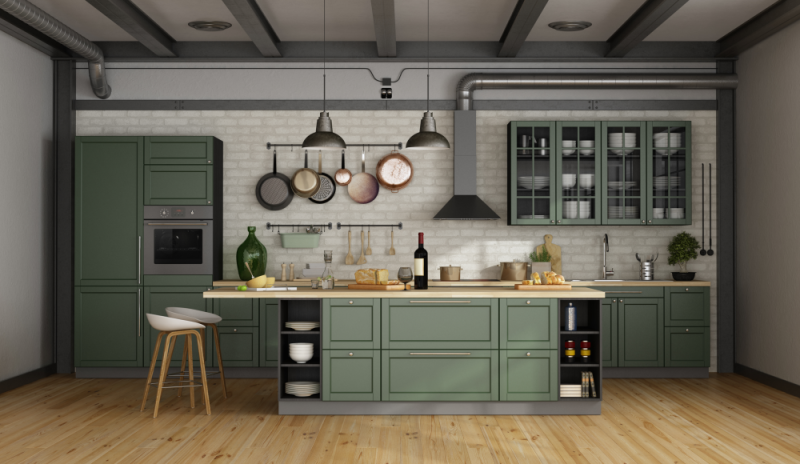 Inspiration: Dark kitchen paint
Many people shy away from a darker shade, thinking they need more time to lighten the space. But with creativity, dark colors can make a room pop. They also create a sense of security and sophistication. If you need more confidence about using bold colors of this type, start small by painting just one wall in a powder room or other small space. You might be surprised at how much you like it!
When it comes to small spaces, particularly kitchen island designs, integrating dark colors can be extremely successful in terms of creating a cozy and sophisticate atmosphere. Adding a touch of gray by painting the island and cabinets with a dark color can produce an elegant contrast to light shades while providing the island with a dynamic edge. Incorporating a black kitchen peninsula is sure to create an atmosphere that is inviting and cozier than ever. With this strategic approach, your kitchen island will surely become an inviting and stylish centerpiece for guests to admire.
A small island can add a lot of charm and character to your kitchen, especially if you go with dark tones: the color draws the eye up. A dark palette of gray and black in a kitchen design can give the modern edge that many look for while still making the area feel comforting. One of the best ways to do this is through lower kitchen cabinets. The sleek black look pairs perfectly with gray island finishes and provides ample storage that is aesthetically pleasing. With lower cabinets, a smaller island will be easier to accommodate which allows for more coziness to come with it.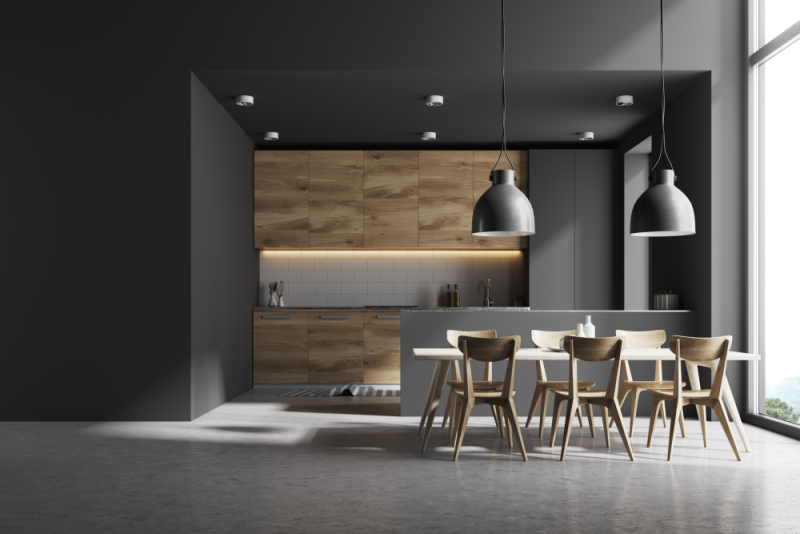 Kitchen paint colors: Compliment with an accent wall
Choosing accent colors that compliment the wall color of a room is an important step in its overall design. To achieve an eye-catching look, think about accentuating certain areas of the room. For instance, an accent wall color like matte black would work well against a shade of blue walls.
Balancing accent colors with earthy tones can be achieved by incorporating natural wood cabinets and other accent furniture against a neutral-colored wall. Doing this will bring attention to certain areas within the space while still keeping it light and airy.
By carefully selecting accent colors that do not clash with the wall color, you will be able to create an inviting and pleasing atmosphere in your home.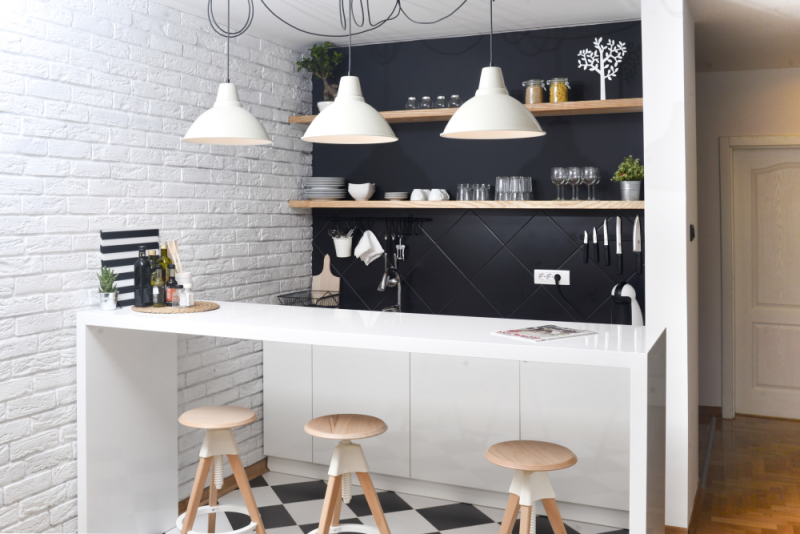 Bring character to your kitchen with stunning black accents!
Paint color ideas: Use paint samples
Trying to find the perfect paint color for your home? You can use paint samples to test out different paint colors before making a final decision. They also allow you to experiment with different paint shades and wood tones without picking up a paintbrush. Paint samples are invaluable if you are trying to find the right paint color that harmoniously blends into your existing color scheme.
What about finding the perfect kitchen colors?
There is no single correct option when it comes to choosing colors to decorate the kitchen. Rather, we have to think that most of them can work acceptably, although some will become a plus in style for your kitchen, and others could spoil the final result. The best kitchen colors are those that make the space inviting, comfortable and aesthetically pleasing.
With so many options available on the market, it can be tempting to simply pick a color at random or stick with what you know. However, taking the time to carefully consider all of your options is essential for creating a successful kitchen color palette. Before committing to any most important thing to remember when considering kitchen colors is that you should choose shades that work together harmoniously.
Consider the existing furnishings, including countertops and cabinets, as well as any color scheme already present in the space. With this in mind, you can easily find the perfect paint colors for your kitchen walls and cabinets that fit into your existing decor kitchen is the hub of the home, and it should reflect your personality and style. With so many beautiful kitchen color options available, there are endless possibilities to create a vibrant and inviting kitchen.
From white walls, wood tones, and stylish blues to timeless greys, choosing the perfect shade for your walls and cabinets can turn any kitchen into a stunning oasis. The bottom line is that there are many different kitchen color options available, so it all comes down to personal preference.
Take your time to find the perfect shades for your walls and cabinets and explore all of the possibilities on the market. With a little bit of creativity, you can create a unique and beautiful kitchen that reflects your personality and style.
When it comes to design, the sky's the limit.
You can go as bold or as minimalist as you want — it all depends on what kind of feeling you want your kitchen to evoke. However, there are a few things you should keep in mind when choosing colors for your kitchen, such as the size of the space and what tones will complement the surrounding rooms. Again, if you have a reduced space, light colors will make it seem bigger while dark colors can make it feel cozy. To choose an accent color that compliments your wall color, use paint samples to test out different hues before making a final decision.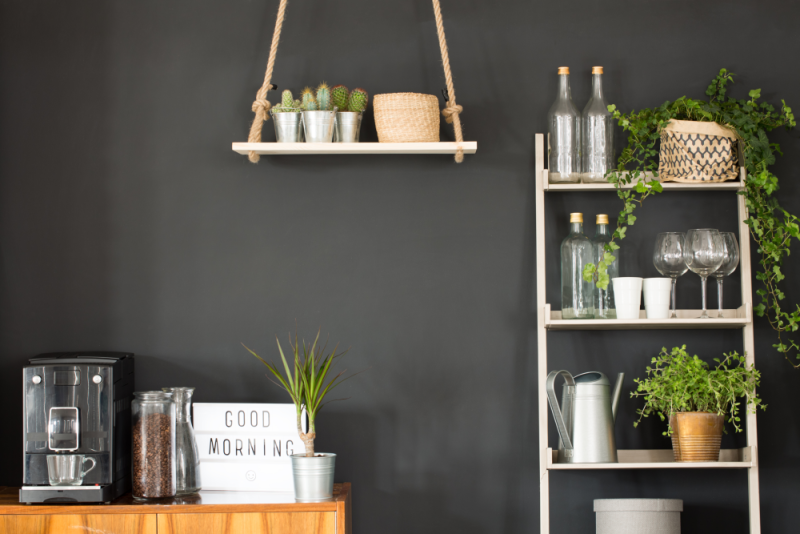 Paint colors for kitchen walls + professional painting services
There are a lot of things to consider before painting your kitchen, but taking the time to plan will result in a space that you're happy with for years to come. Keep these factors in mind as you choose colors and finishes, and don't be afraid to consult with professionals if needed. With a little bit of planning, your newly painted kitchen will be the envy of all your friends and family!
If you're considering DIY-ing your kitchen painting project, here are a few things to think about that may make hiring a professional painter seem like a wiser investment.
Extra investment: Including the cost of purchasing necessary materials, paint, and primer, investing in a new paint job can be expensive.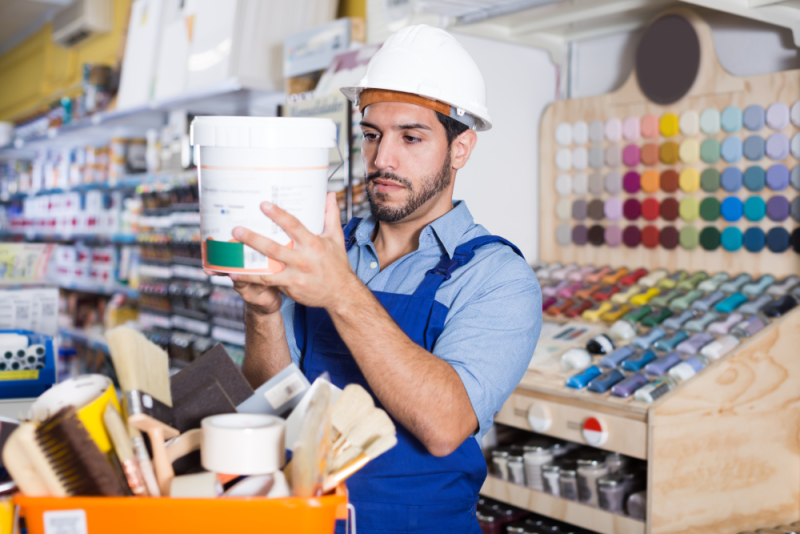 Removal of hardware and appliances: Before beginning any interior painting, take time to prep the area; this may include removing all kitchen appliances and taking off cabinet hardware.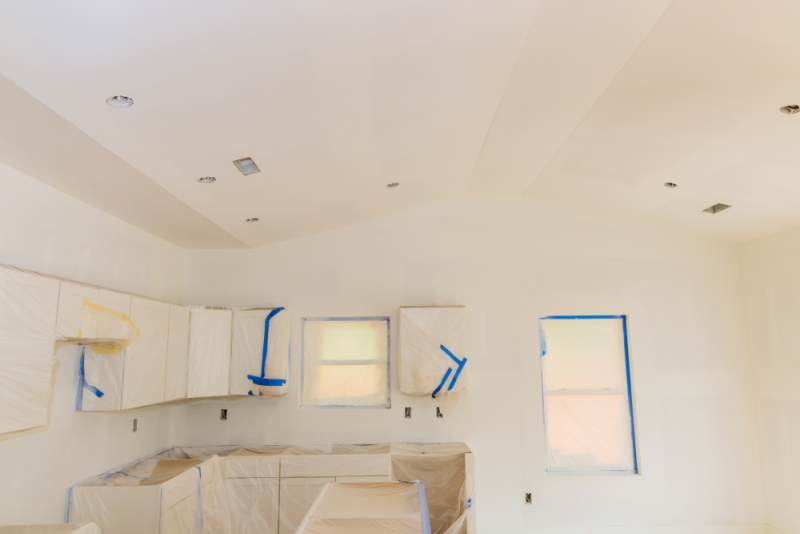 Cleaning and sanding: Before you start painting any area, make sure to prep it first. This usually includes deep cleaning, sanding, and filling in gaps with caulk or plaster.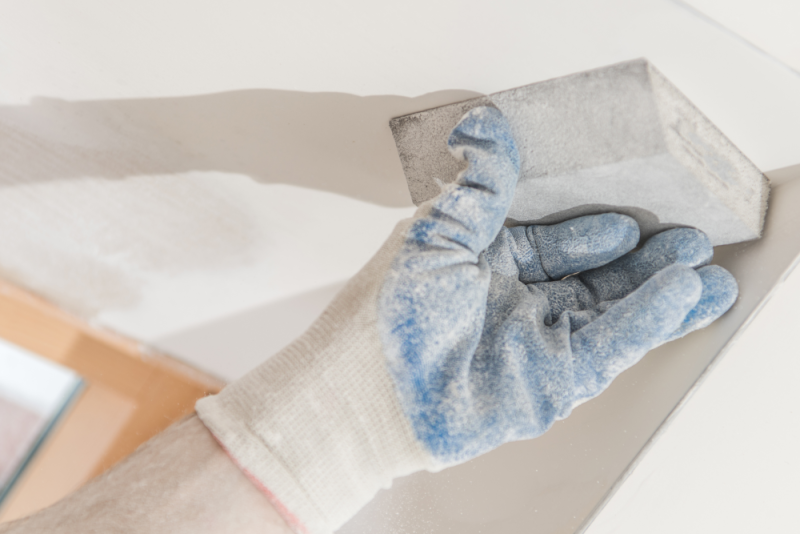 Taping: Painter's tape is key for giving you clean lines and no paint where it isn't wanted.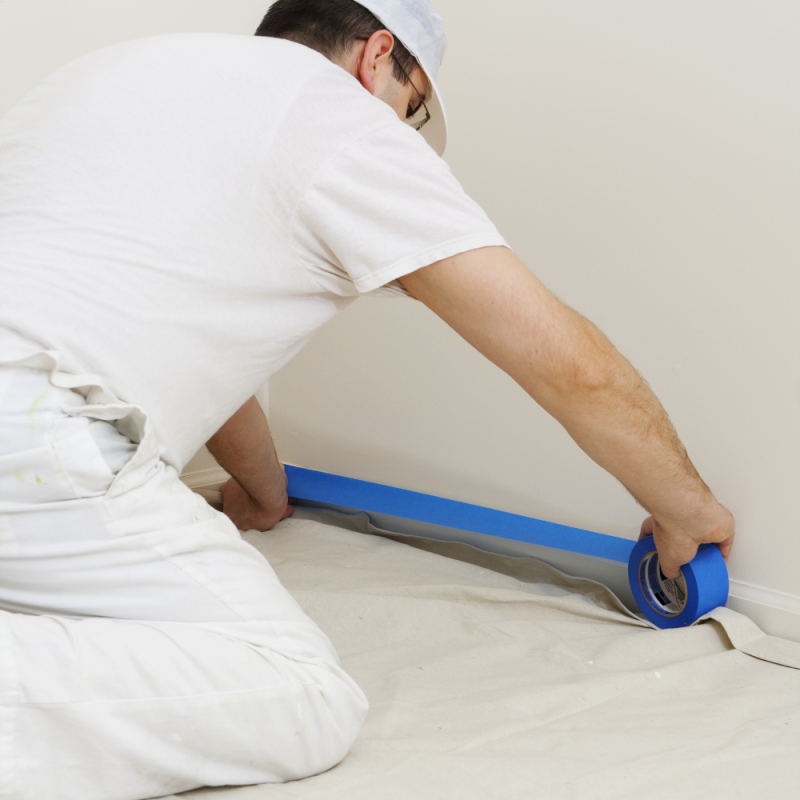 Stress and hidden costs: Even for experienced home renovators, starting a project can be daunting. If this is your first time taking on such a task, the pressure to make it perfect may be especially intense. Hiring a professional to fix mistakes will end up costing more money in the long run than if you had just hired someone from the start.
If you require good home painting advice on how to bring color and pair perfectly with a modern or retro look, kitchen cabinetry, and surrounding rooms, contact Renaissance Painting and Carpentry today! We would love to help turn your living space into your dream kitchen in no time!