Although not everyone's favourite chore, house painting is an important part of the maintenance process. Every few years, the walls and ceilings start to look dingy and need a fresh look.
When it comes to painting the bathroom, there are a few things to keep in mind: A functional and stylish bathroom is essential whether buying or renting your home. With a little preparation and care, your bathroom will have a fresh new look that will last for years.
With an excess of inspiration available, you can face a hard time when choosing which elements will work best based on your needs. The colours you select for walls, ceilings and trim based on the size and shape of the space you have are going to play a significant role in setting the atmosphere for this intimate space. This article offers ideas for inspiration for your next project!
Your bathroom paint color says a lot about you.
While all interior paints require occasional cleaning, bathroom walls, in particular, need to be scrubbed or wiped down more frequently. As a result, the best or ideal bathroom paint is stronger and more resistant than other types of interior paint. These paints are generally a bit more expensive, but the quality is worth it as they are durable and last much longer than regular latex paints.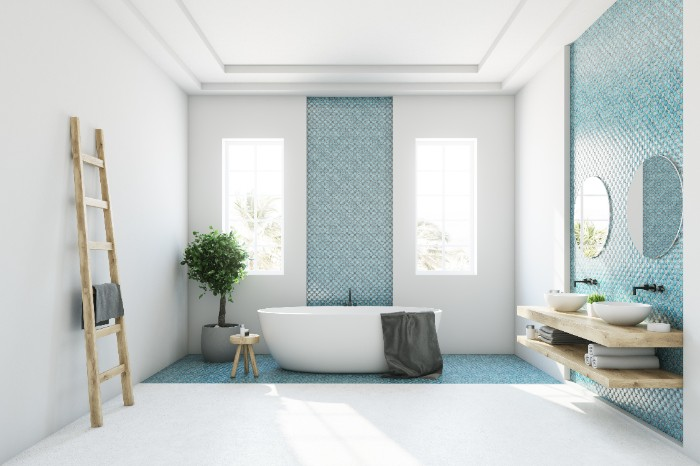 Moisture resistant paint for bathrooms
If you're looking for a quality paint job, look no further than Aura® Bath & Spa from Benjamin Moore. With Colour Lock technology, your paint will stay vibrant and clear for years to come, and by adding a fresh coat of paint in an eggshell or semi-gloss matte finish, you can create the perfect ambiance with your updated bathroom walls.
If you're looking for easy-to-clean, damage-resistant paint for your bathroom, SuperPaint Interior Satin Latex from Sherwin Williams is perfect. With 540 hues to choose from, you can find the ideal match for your space.
Both companies offer quality, exclusive mildew-resistance components that are perfect for use in high-humidity areas, along with a great selection of the best bathroom paint colors.
Combination of painting and other design elements
Paint colours offer different effects, like using a light shade of paint on the walls and a darker shade on the trim to help the room appear larger and more open.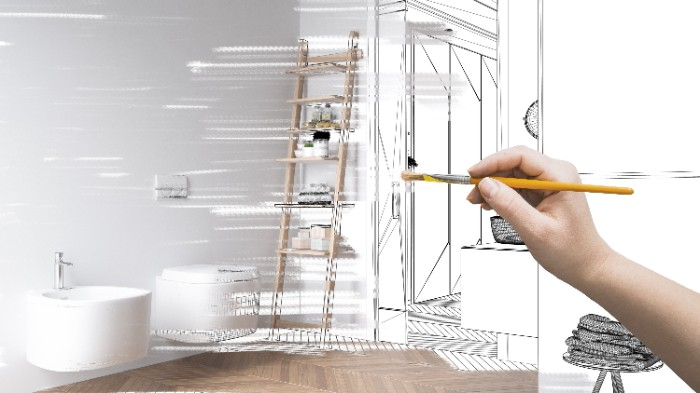 For example, painting the walls in a light shade and the ceiling in a darker shade will give the room the appearance of being taller than it is. Whatever look you're trying to achieve, there are paint colours that can help you achieve it.
Blue and green are the top choice in Interior design.
Many of us are thinking about freshening our homes with a new coat of paint. If you're planning to tackle the bathroom, you're in luck— according to interior designers, blue and green are the top choices for bathroom paint. Blue is a popular choice for bathrooms because it evokes the feeling of being outdoors and green helps to create a calming atmosphere. The shade you choose will depend on the overall look you want in the room.
Blue
A bright blue color would pop against white trim and chrome fixtures. Designers love to use a more radiant, bolder blue on one wall and a softer, calming blue on the rest of the walls; this combination creates a serene yet exciting space that is perfect for unwinding at the end of a long day.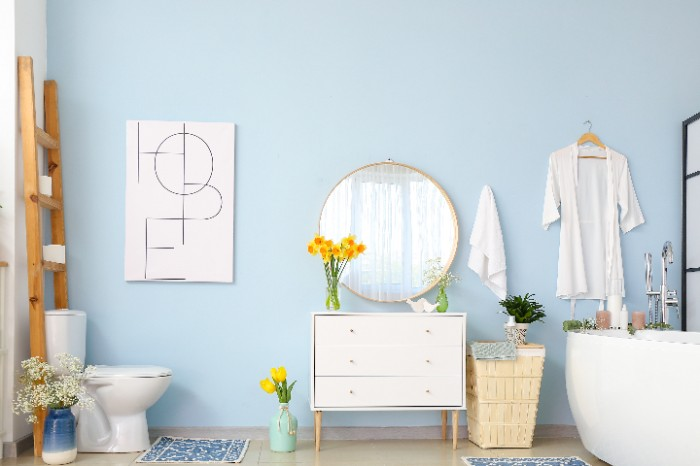 For a contrast in color, use Navy or royal blue on an accent wall with white or light-coloured walls surrounding it. And if you want to make a statement, go bold with a vibrant cobalt or teal. Create a dramatic yet sophisticated look that is sure to impress guests.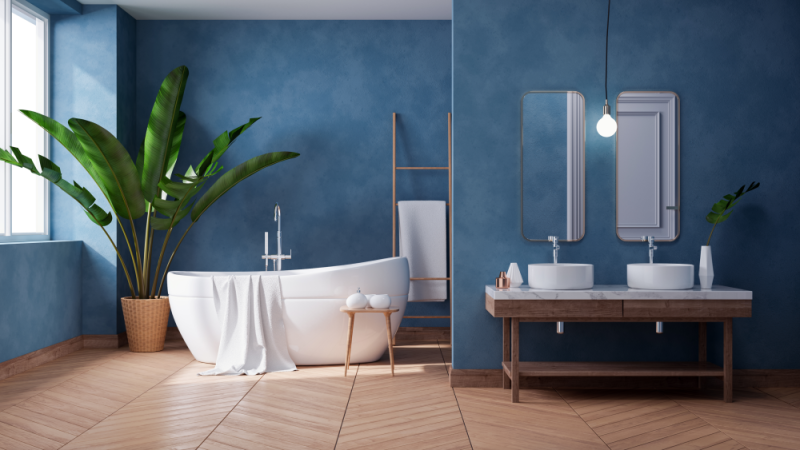 Green
Whether you're looking for a cozy feel or a bright color, a green hue is perfect for you. For a bold look, try a shade like olive or forest green; however, if you prefer, a little softer look, mint or sage green would be a great choice.
If you simply just want to add a touch of elegance, then consider a deeper shade of green like emerald but if you're looking for something truly unique, try mint green or pistachio. These unconventional shades will give your bathroom a one-of-a-kind look.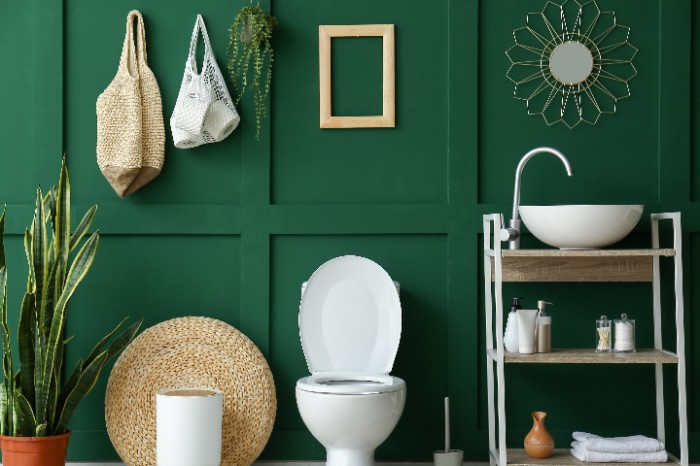 White, black and grey: Stylish Statement
The elegancy in solemn black, bright white, and smooth gray are popular bathroom color choices for a good reason: they're soothing, gentle on the eyes, and make you look good in the mirror.
Black
Black paint is an excellent option to create a sophisticated look in your bathroom. A semi-gloss paint finish will best resist moisture in bathrooms and provide a beautiful sheen. When choosing black paint, selecting one with high-quality pigments is crucial to avoid a dull or faded look.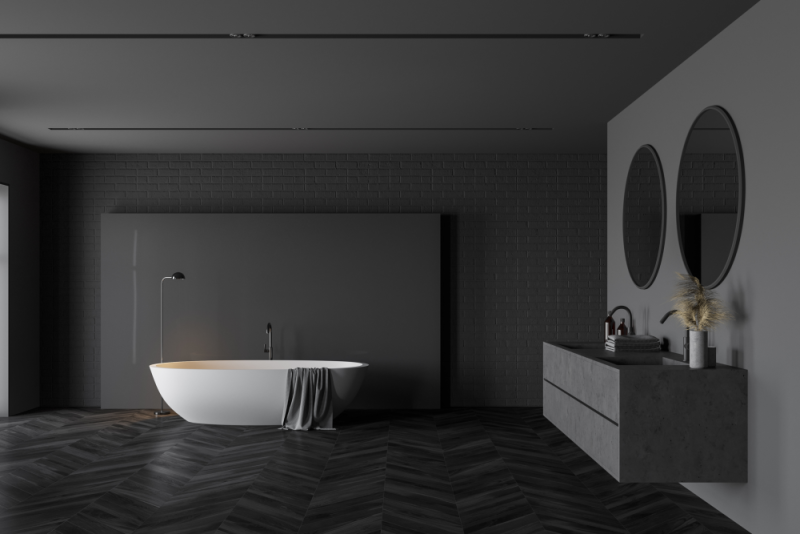 White
Bright white paint can help to make a small bathroom feel more spacious and airy. It can also help to reflect light and make the space feel gleaming. If you're looking for a clean and crisp look, choose white paint with high opacity. If you want something a little softer, choose a bright white with a lower opacity.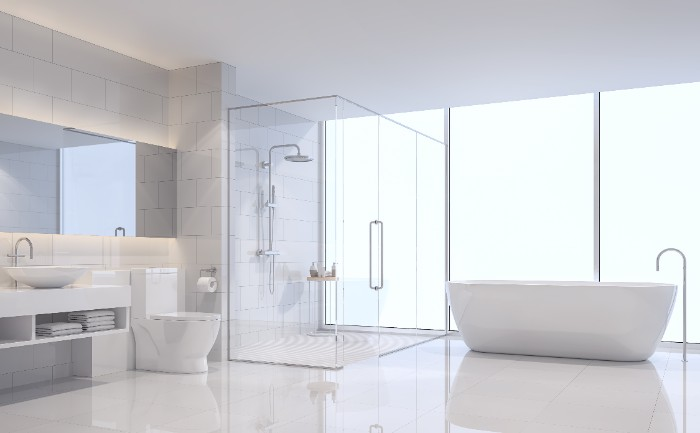 With so many different shades of white to choose from, you're sure to find the perfect hue for your bathroom.
Gray
Gray strikes the perfect balance between black and white too and can also be used to create a more vibrant and contemporary look. It is a popular choice for bathrooms because it is a neutral backdrop that is equally versatile, therefore making it easy to coordinate with most tile and floor tones.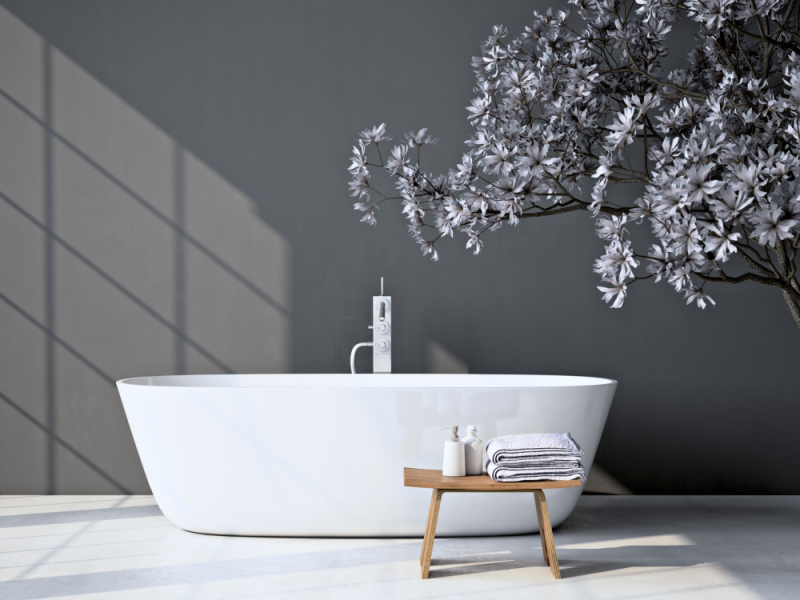 A smooth gray pops without being overbearing; it's light and airy but still provides a hint of sophistication. So, if you can't decide what colour to paint your bathroom, go with gray—you can't go wrong!
Unique boldness: Purple or orange for your bathroom walls
If you're tired of traditional bright white walls or pale blue, consider a more aggressive colour like purple or orange.
Purple
If you're looking for the best paint to use in your bathroom, look no further than purple. This bold color is perfect for making a statement in any space, and it's especially well-suited for luxury bathrooms.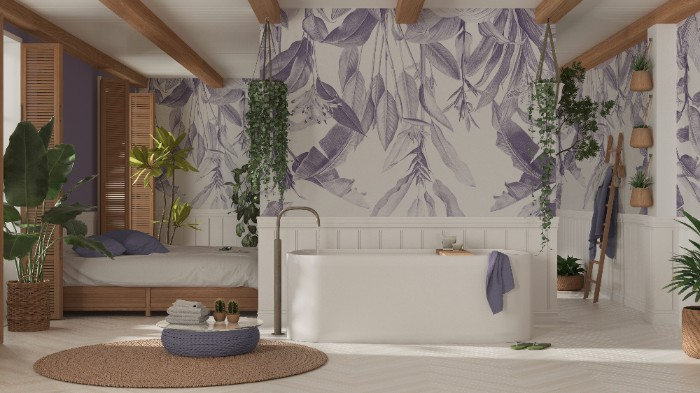 When paired with tiles and floor, purple paint can create a crisp, sophisticated look that feels truly luxurious. Of course, purple isn't for everyone, so if you're not ready to commit to such a bold color, you can always use it as an accent color.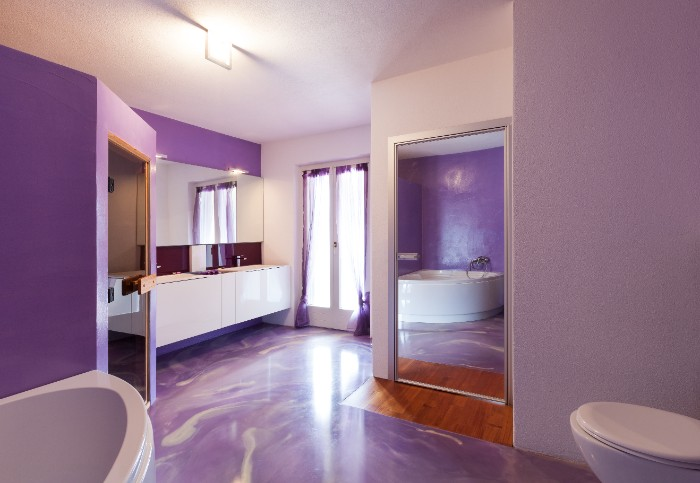 A hint of purple on the walls or in the bathtub can still significantly impact without being overwhelming. Whichever way you choose to use it, purple is sure to add some serious style to your bathroom.
Orange
If you're looking for a way to add distinction and style to your bathroom, consider using orange. This vibrant colour can instantly transform a room, making it appear brighter by taking advance of the natural light offering a sunny room.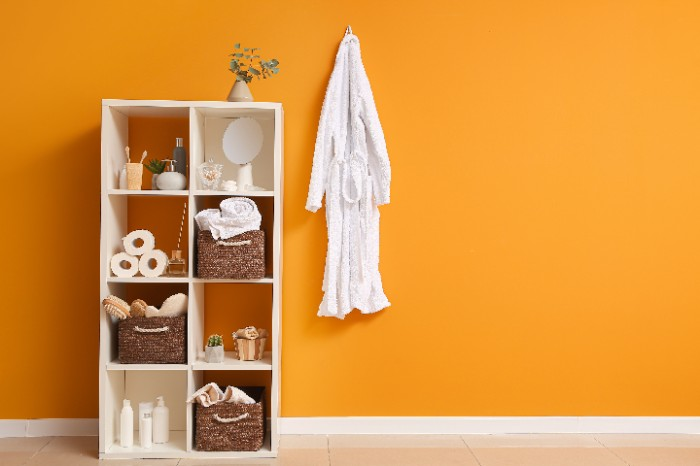 Orange is also known for its ability to add energy and life to any space. Whether you use it as an accent color or paint the entire room, orange is the perfect match for a fresh and stylish look.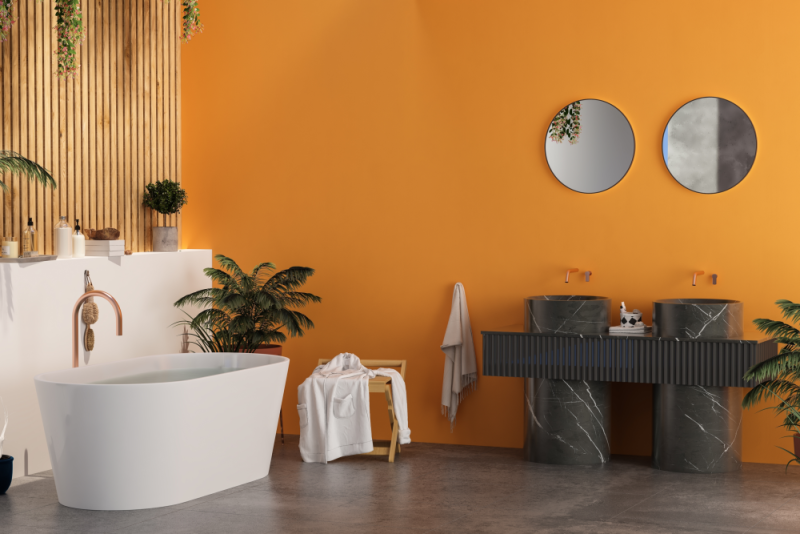 Accent Walls: A pop of bathroom wall painting!
If you're not interested in painting your entire bathroom, an accent wall is a great way to add colour and interest. Some of the best shades for feature walls in bathrooms include blue, green and pink to create a spa-like atmosphere in your bathroom.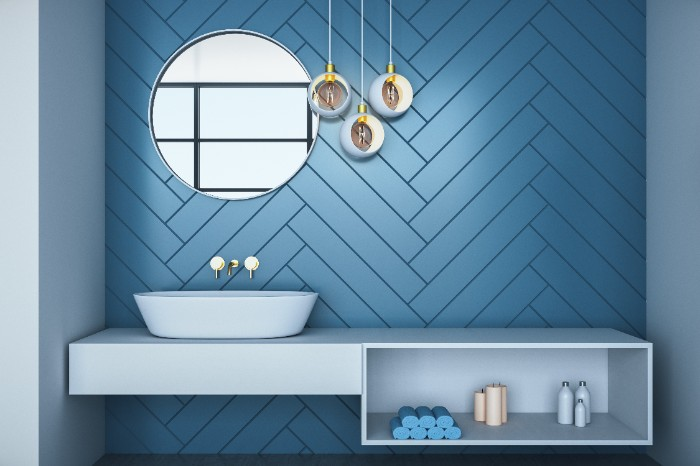 Ready to go to the dark side? If you're looking to add a bit of edge to your home, consider using black accents. You might be surprised at how relaxing a dark color scheme can be.
For more inspiration, check out our exclusive blog article here: Accent Wall Ideas That Will Transform Your Living Space
Interior design secret: The wall opposite the door is the one you should paint.
The wall people will see first upon enter the room is usually the one across from the door. You may not want to draw attention to that wall if it holds something unattractive, like the toilet. Instead, you could highlight another wall in the room.
The back of your shower could be an excellent location for a feature wall. Depending on your bathroom's layout, the shower's back may or may not be immediately visible when you enter the room. However, regardless of its positioning, using that back wall as a focal point can create a stunning visual effect in your bathroom.
You could refinish existing tiles in a unique color or pattern, set against solid-coloured side walls. Ultimately, there are many possible configurations to consider—any of which could work well in transforming your space.
Add a surprise wall color in the back of the shower
Why not add a splash of personality to your bathroom with a surprise feature wall in the shower? It is an easy and relatively inexpensive way to jazz up an otherwise mundane space. The back wall of your shower offers an excellent opportunity to make a statement.
If you're planning on refinishing a white subway tile, consider choosing a unique colour or pattern for that one wall, flanked by solid colours on the side walls. You can configure this look in many ways, so play around with what works best for your space. Plus, it's an excellent opportunity to experiment with bold colours or patterns that you might be hesitant to use elsewhere in your home.
Creating a focal point out of your vanity
In recent years, homeowners have pushed the boundaries by adding serious drama to a powder room using shiplap, wallpaper, a pop of colour or accent tile.
With some funky mirrors or unique light fixtures, you can create a statement piece that will impress your guests.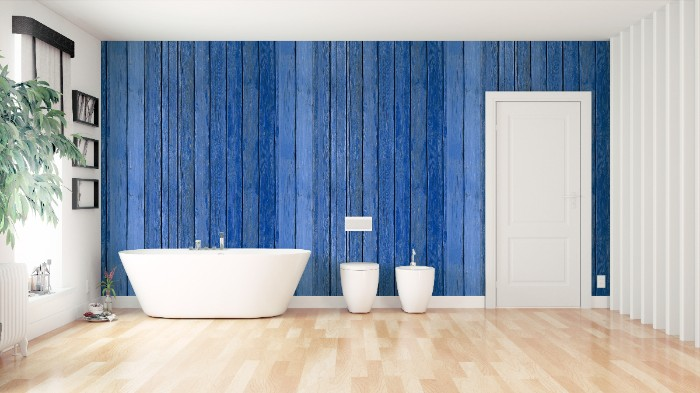 Popular bathroom colors include beige and light brown.
Beige or light brown paint is ideal for your bathroom if you want to achieve a classic and timeless look. Both colors are excellent for a small space, making the area look more prominent. If you have a master bathroom, you can still use these colors, but you may want to add some accent colors to add interest to the space.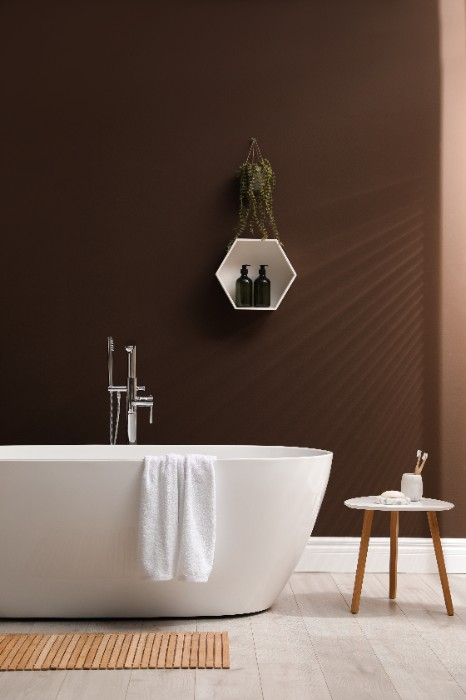 Beige and light brown are also good choices for bathrooms with cool tones, as they will help make the room feel more relaxed. These colors are also easy to maintain, as they won't show dirt and grime as quickly as darker colors. When choosing paint colors for your bathroom, test the colors in the space before making a final decision; this will ensure that you love the results.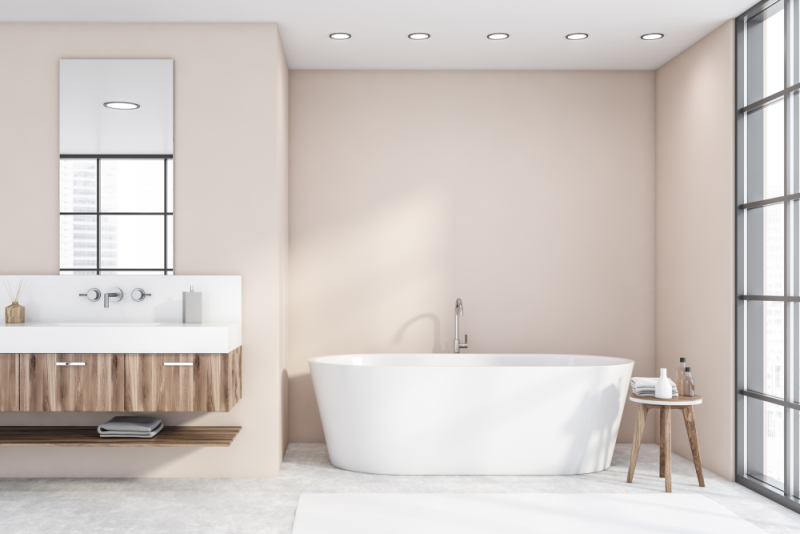 Extra edge: Painting bathroom walls in pink or yellow.
Trying to figure out what color will make your bathroom walls pop? Pink and yellow are two of the most popular options. Pink is often associated with femininity and romance, making it a perfect choice for a bathroom that you want to feel luxurious and exclusive. Yellow, however, can add a touch of playfulness and fun, boosting moods and creating an energizing atmosphere.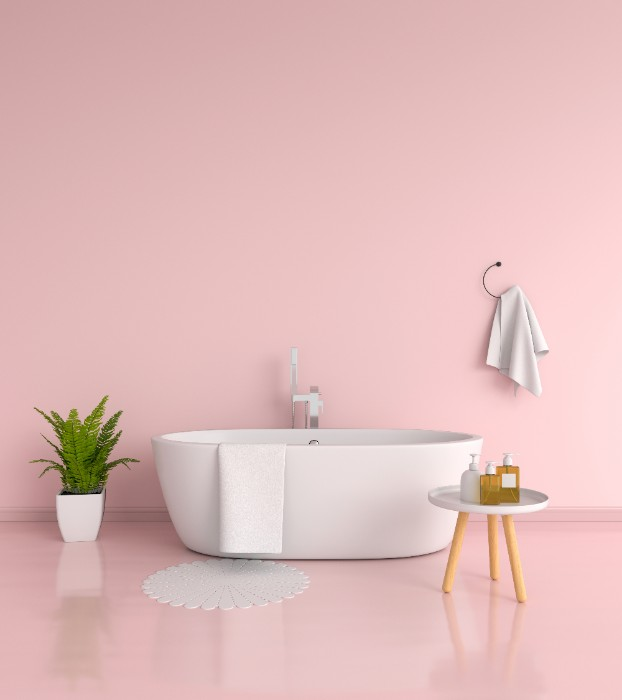 Consider using pink or yellow paint to create a luxurious master bathroom that really pops. The colours are loud and immediately grab your attention when you enter the room. They're also highly reflective, so they'll help bounce light around the space and make it feel more open and airy.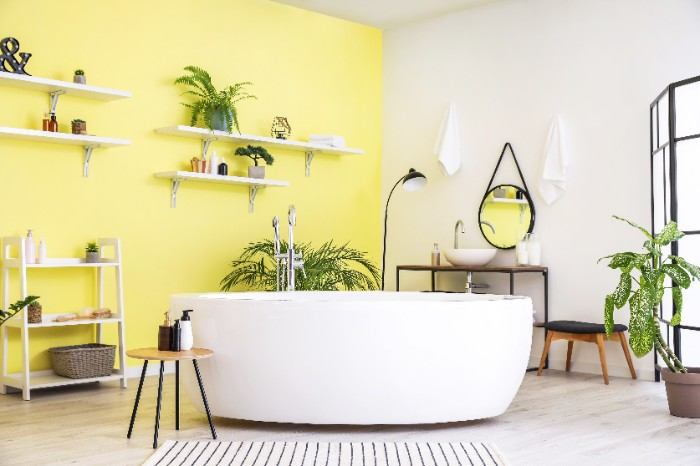 These colours are also very cheerful, so they'll help create a relaxing atmosphere perfect for a bathroom. Just be sure to use a light shade of each colour so the space doesn't feel too overwhelming.
Ceiling, the right shade, and a coat of paint to stand out
In interior design, bathroom walls are essential, but your ceiling is also equally important. Adding a particular visual interest by painting the top in a different colour than the walls feels like a breath of fresh air and helps to create a more unique and inviting space. If you're looking for a bolder look, consider painting the ceiling in a bright or contrasting hue that helps to bring a cooling effect to a very bright and sunny room. Try using a slightly lighter or darker shade than the walls for a more subtle effect.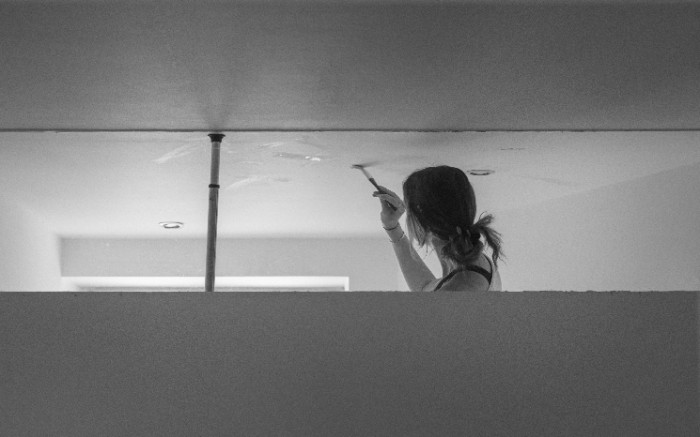 Use light fixtures and accessories to add interest and style
When accessorizing a bathroom, consider the style of the room and its functional needs. A modern bathroom requires more angular shapes and brighter colours. Geometric towel racks, sleek shower caddies, and makeup organizers with clean lines can help to achieve this look.
Use light fixtures and accessories to add interest and style
You can use several different types of light fixtures in your bathroom, from soft pink to deep blue chandeliers, pendant lights, wall sconces, and recessed lighting; these are all great options for a soft and romantic look.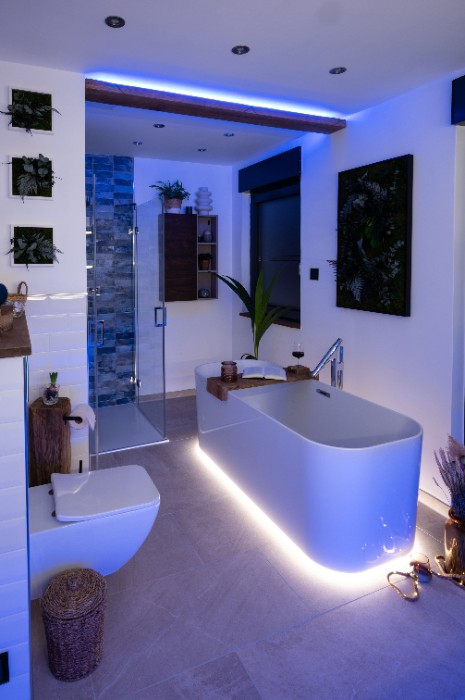 Adding exciting accessories like a mirror or a floor with white tiles gives the space a cozy personality, and it's a great way to make the room more inviting and stylish. Pay attention to the details no matter what style you choose to ensure that your bathroom is beautiful and functional.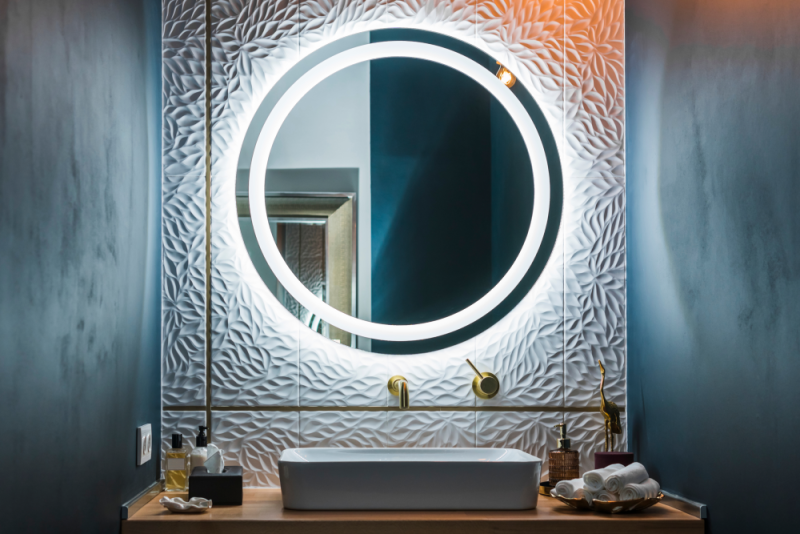 Keep the following advice in mind when painting your bathroom:
With any painting project, there are a few details to remember:
Make sure to use bathroom ceiling paint. This type of paint is specifically mildew resistance which is designed and won't peel or crack over time.

Prep the area well before you start painting. Remove all dust and cobwebs from the ceiling and walls so that the new paint will have a smooth surface to adhere to.

Don't forget to factor in the cost of interior painting when budgeting for your bathroom renovation. A professional painter will likely charge by the square foot, so get an estimate before you begin.

Whether you want a refreshing oasis-like sanctuary in your master bathroom or a colourful powder room to wow your guests, transforming your bathroom is easy with the right combination of materials.

Be aware that if you use paint with too high of a finish or sheen, it will result in excess shine, especially when combined with other reflective bathroom surfaces.

Before choosing a final paint colour for your bathroom, test it in the space to help you see how the paint will look in different lighting conditions. Doing this will give you a better sense of how it will work with existing furnishings.
If you require good home painting advice for your master bath, powder room or small bathroom, contact Renaissance Painting and Carpentry today! We would be more than happy to help make your dream bathroom come true.