Many homeowners ask themselves this question — how often should you paint your deck? Let's cut to the chase and get right to the point. You should paint your decks when signs of peeling, flaking and bubbling show. You don't want to deal with this eyesore every day, do you?
If the previous deck painting job was done poorly, signs of paint peeling and flaking may show after three years. On the contrary, if a professional did the job, it may last for 5 to 10 years or more. Continue reading and learn how to achieve a beautiful deck and everything there is you need to know about deck maintenance.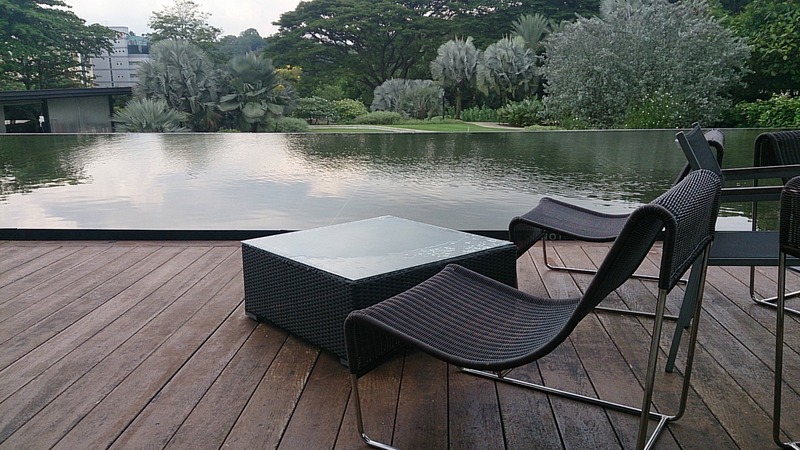 Photo from PxHere
Why should you paint your deck?
There are three reasons why you should paint your deck — to make it look good, protect the wood from damage, and it's easier to keep clean. You have the option to either paint or stain your deck, so what should you choose? 
The answer depends on your personal preference, the colour you want, and the overall feel. Plus you have to consider the long-term maintenance and type of wood used on your deck. For instance, depending on the material used, here's what you should know.
Deck Material:
Cedar Wood: The most common lumber for decks. Use an oil primer and preferably a latex-based paint.
Kiln Dried Lumber: Can be stained or painted immediately
Green Lumber: Needs to dry out first before being painted or stained
Pressure Treated Lumber: Needs to dry on both internal and external surfaces before painting or staining. It is recommended to use high-quality and water-based latex paint along with a primer.
Wood should be around 15 percent moisture content before painting or staining. Use a good quality moisture meter, if in doubt.
Deck staining brings out the natural wood grain. However, a painted deck lets you choose more colour options as you please and gives more protection from harmful UV rays from the sun. But what's the best choice for your entire deck? That's why you need a professional to assess if a deck stain or deck paint is needed.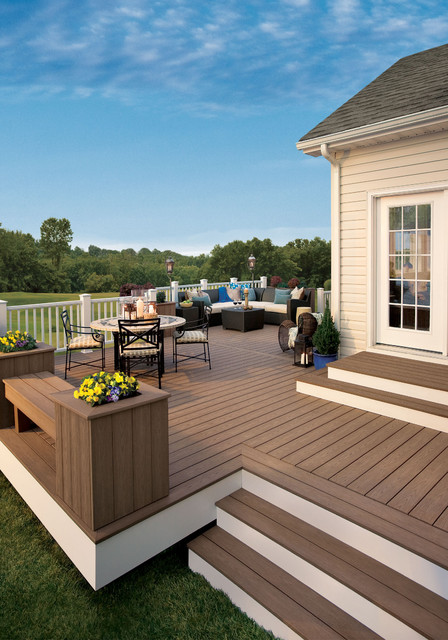 Photo from WikiMedia Commons by AlIzia123
The Advantages of Painting Wooden Decks
Paint or stain? The choice is yours! But if you're in doubt whether you should paint your entire deck or not, then you should read this part. Here are the reasons why you should opt to paint outdoor decks:
Paint Gives a Clean and Uniform Look With Less Work
If you want to turn a weathered deck into one that looks great, then you should paint over it to provide a uniform look. Whether you're putting your house up for sale or just want a fresh new look, a new paint job is the best option especially if your deck is old and weathered.
Stain can also give you a uniform look but it takes a lot more preparation to achieve.
Easier Deck Maintenance (with Paint vs Stain)
If you opt for deck staining, you have to refinish or reapply on the entire surface every two to three years. Plus, you have to reapply a stain with UV protection, that'll be a lot of work. Unlike paint, especially if done by a trusted professional will last ten years or more, with minimal upkeep and is easier to clean.
Wood stains need to be applied every few years because wood loses its natural protection against harsh outdoor elements, causing the wood to wear down over time. In short, painted decks are easier to maintain and last longer.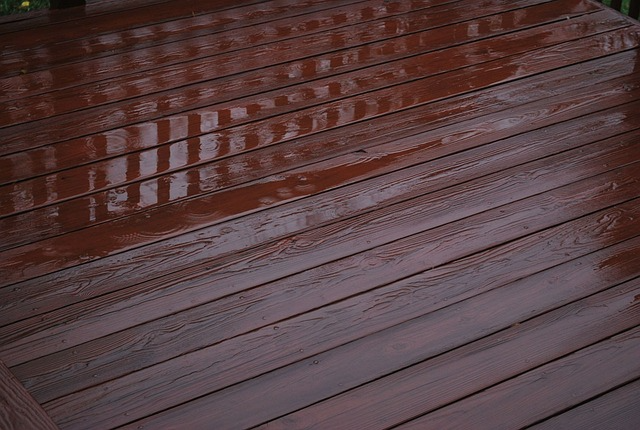 Image by PublicDomainPictures from Pixabay
You Have More Colour Options
Do you want matching interior and exterior tones? Then painting your deck is the better option for you. If you choose to paint your deck, you have more colour options that will complement the whole house and maximize curb appeal.
Unlike when you stain a deck where you're limited by the natural wood colour. But don't get me wrong, staining a wooden deck can look amazing. It just takes more work and needs more maintenance. But if you don't want to be limited with your colour options, then painting your deck is a better option.
Paint Hides Flaws
If you have a wooden deck, it's inevitable to deal with flaws like signs of rot, black stains, and even holes. You cannot cover these flawed areas with an oil-based semitransparent stain or in fact any kind of stain. That's why older decks would look better when painted to cover the flaws. Painting the deck will help with hiding these problems so it'll look great.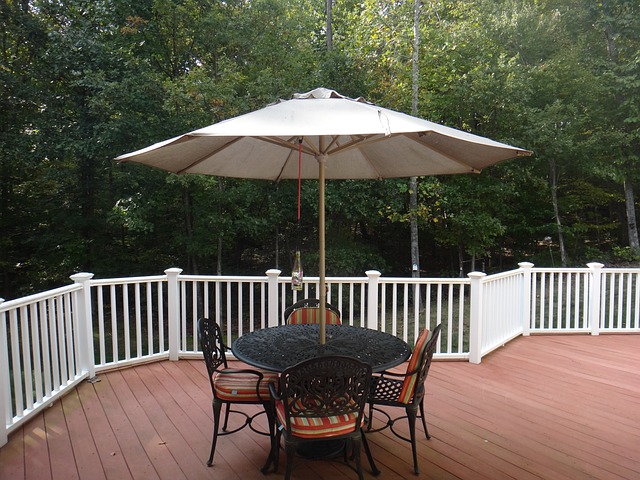 Image by jjohnl from Pixabay
How to clean a painted deck?
Did we mention that painted decks are easier to clean? With light pressure washing and an effective cleaning solution, you can enjoy a clean and beautiful deck all year round. Here's what you need to remember when cleaning a painted deck:
Use dish soap or laundry detergent mixed in warm water and place it in a spray bottle
Apply detergent solution on the deck and agitate with a brush
Use a soft-bristled brush when cleaning
When using a power washer, light water pressure is recommended
Do It Yourself or Hire a Professional?
Decks are exposed to the elements of nature 24/7. If your deck is not painted correctly and maintained properly, costly repairs, in the long run, may be the result.
Sure, you can do it yourself and paint your deck. But the question is, are you doing it correctly? Other than it being time-consuming to do it yourself, you should consider when to do the work, the correct type of paint, how much preparation, what type of preparation, and how to execute the paint job properly.
You want to make sure that you do not paint when it is too hot or too cold. The temperature range should be between 5 and 30 degrees Celsius. You should not paint when the wood is hot to the touch or in direct sunlight. You need to make sure that it doesn't rain for up to 24 hours after you paint.
In other words… painting decks is a balancing act.
So the best choice will always be to hire a trusted professional to do it. You must hire a company known in your area, with positive feedback and an impressive portfolio. So you can just sit back, relax and expect a quality paint job.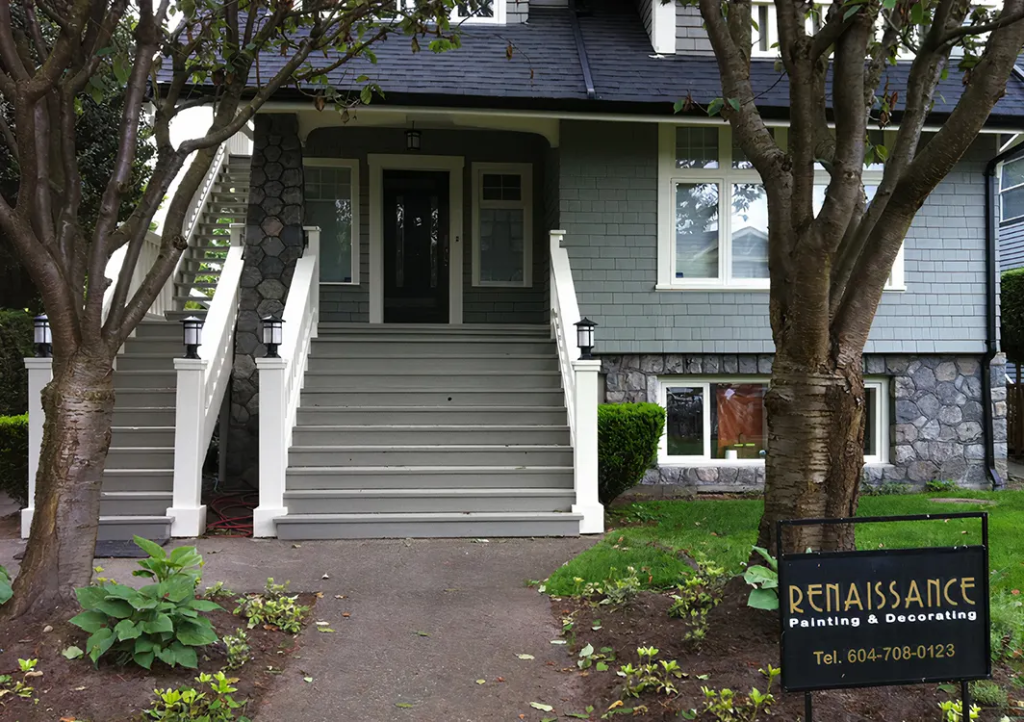 RenaissancePainting.ca – Exterior Painting Portfolio
What to Expect When You Hire a Professional to Paint Your Deck
If you want an optimal painting job for your deck that's guaranteed to last for many years, you won't regret hiring a trusted professional to do the job. If you're from Vancouver, North Vancouver, West Vancouver, Burnaby, or the surrounding areas, Renaissance Solutions is here to help you.
Here's what you can expect when you hire a professional team, like us, to paint your deck:
Proper Prepping
An integral part of the process is proper prepping before applying the paint deck. This includes spraying the surface with a mold deterrent, proper cleanup, rinsing and getting it completely dried off. This also includes a thorough assessment of what needs to be replaced like nails, screws, and rotting wood.
Wood Preservation and Priming
At the end of the day, the long-term goal as a homeowner is wood preservation. That includes applying a water-repellent preservative before the priming process. During the priming process, a high-quality primer will be applied to improve adhesion and add protection from moisture.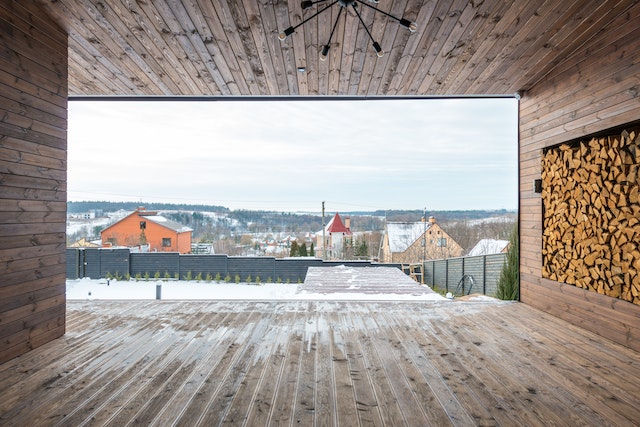 Photo by Max Rahubovskiy from Pexels
Paint Time!
Of course, you have the freedom to choose the colour you want for your deck. Our team will also present your colour options to make the selection process easier.
As for the type of paint used, you can expect that all options will be explained to you, including their pros and cons before starting the whole job. There are deck paints designed specifically for decks. As soon as we're on the same page, we will start your painting job.
Contact Us Now!
If you wish to start your deck's transformation process soon, contact our team of professionals here at Renaissance Solutions. Get a quote by filling up the form on their site and send pictures of your deck as well.
After your initial contact, expect a phone consultation and home visit so you can discuss with our team the whole vision of this project. Other than deck painting, we also offer services like Interior Painting, Exterior Painting and Custom Carpentry. Reach out to us now!