A deck is an extension of your house or a freestanding structure. Because it gives homeowners a better view of the outdoors, it often gets more foot traffic plus exposure to the elements. To protect it and upgrade the look of your deck, there are two ways to do it: painting and staining.
In this article, we will discuss how painting and staining are done, the tools you need, and some tips for professional-looking results.
Painted Deck: How to Do It, What Do You Need, and Tips
A fresh coat of paint protects it from heat, UV rays, and moisture.
The process is quite simple. You wash and clean your deck. Let it dry. After drying, begin the brushwork. You apply primer, dry, and then apply your choice of paint.
If you need to repair or replace some sections, you'll need to do this first before cleaning and painting. But, what are the materials and tools you need to finish a painting project for your deck?
Materials and Tools Required for Painting Your Deck
You'll need good quality paint that is made for painting decks. Good quality paint and the right paint colour can make your deck look good and last for years. Other important tools and materials include scrapers, brushes, cleaning products, and sanding materials.
Cleaning products such as brighteners and all-purpose universal cleaners can remove dirt, mould, and mildew. Be careful of using a power washer, as it can damage the wood if not used properly.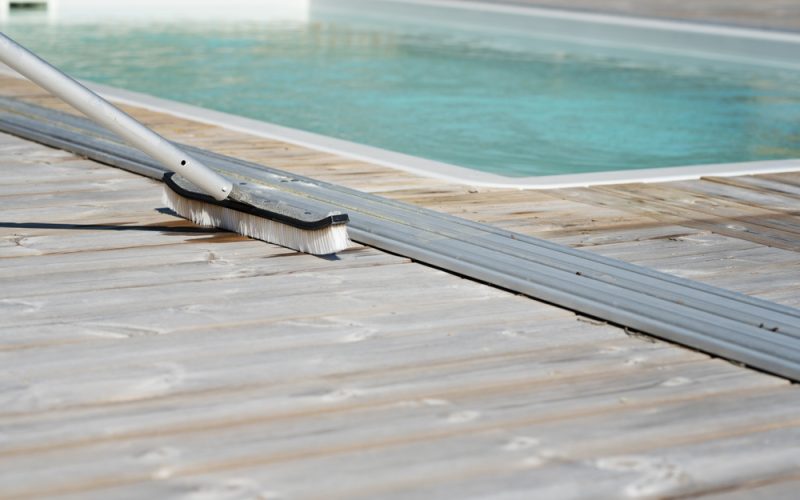 Types of Paint for Wooden Decks
Here are the popular types of paint most professionals choose for specific wood.
Latex Paints
Latex paint is water-based. It is eco-friendly and low maintenance. You can clean up a latex-painted wood surface with soap and water. Latex-based paint for decks is a cost-effective and practical option. It is flexible and tends to show less wear due to cracks and chips.
Acrylic Paint
Acrylic paint is chemical-based, requiring thinners and proper ventilation when applying. It has better elasticity than latex paints. Meaning, it contracts and expands as temperature changes.
Painting Your Wooden Deck
Tips for Achieving a Professional-looking Painted Deck
Deck painting is a classic summertime project but surface preparation is the key to a professional-looking deck. Remove all loose paint, properly clean your deck and dry it completely.
Paint the sides of the deck boards and any areas that the roller cannot reach with a brush. The same technique applies to painting. It is important to apply the paint in thin, even coats to avoid drips and ensure proper coverage.
DIY vs Hiring a Pro for Deck Painting
DIY painting your deck can be a fulfilling experience. But for a first-time DIYer, the process might frustrate you. Moreover, you might spend more money than you should because you'll have to start everything from zero. Plus, you'll sacrifice a chunk of your time to do this project.
Compared to hiring a pro, all you need is to discuss the vision you want with your deck. The professionals will give you an estimated cost and time to finish painting your deck. The most important part is an inspection of structural issues. If needed, the pros can replace damaged planks, railings, or hardware before painting.
Stained Deck: How to Do It, What do you need and Tips
Aside from painting, staining is another way of refinishing your deck. Similar to painting decks, you'll need to prepare the surface for staining. No dust, wood fibres, grease or dirt should be present.
Stains may not adhere well if the surface is not properly cleaned and prepared. Before starting the staining project, remove all items from the deck. Includes furniture and potted plants.
Staining your deck
Choosing the Right Stain and Tools for the Job
When choosing a stain, consider the wood used in your beautiful deck. For example, stains don't adhere well to tropical hardwoods. Also, consider the level of protection and desired colour.
Stain applicators come in many forms, including brushes, rollers, pads, and sprayers. Using the right applicator makes the job easier and more efficient.
A three-inch brush is a great tool in applying stain deck boards, while a paintbrush or foam brush can be used for difficult-to-reach areas like deck railings or in between boards.
Best Techniques for Staining Deck
Stains preserve the natural beauty of wood and protect your deck from UV rays and weather. When it comes to staining a deck, there are several options to choose from, each with its own unique characteristics.
Transparent and Semi-transparent Stains
Transparent or clear stains are a popular choice for a newer wood deck. They allow the natural wood grain to show through while providing some protection from outdoor elements. You'll need two coats for the best results. A semi-transparent stain allows some grain/ texture to show through and imperfections may still be visible.
Solid Wood Stains
A solid stain, on the other hand, completely covers the wood grain with opaque colour, providing the most coverage and UV protection. It is a good choice if you want to completely change the colour of the deck or hide imperfections. However, solid stains will "film" on top of the wood, which can make them more prone to peeling and flaking over time.
A semi-solid colour stain is a middle ground between semi-transparent and solid deck stain. They provide more colour than semi-transparent stains while still allowing some wood grain to show. They are also better at concealing damage than semi-transparent stains.
Tips for Achieving a Professional-looking Finish
Use a putty knife to clean between the boards and remove any remaining debris. Sanding splintered spots and using a wood deck cleaner can also help remove dirt, nail stains, algae, and mildew.
Before applying any stain, check the weather forecast. Choose a day when the temperature is between 20 and 30 degrees Celsius and no rain in the forecast.
Unlike with painting, you must maintain a "wet edge" and systematically overlap the fresh, wet stain with the area to which you just applied the stain. Spread the stain evenly over the wood to avoid dark spots.
DIY vs Hiring a Pro for Deck Staining
With DIY, you'll need to decide everything from choosing stains to applying them. For beginners, staining a deck can be stressful since you'll need to learn everything from scratch.
On the other hand, professionals bring valuable skills and experience. Throughout these experiences, they've gathered the necessary techniques to make your stained deck last longer than usual. These professionals can provide the best course of action.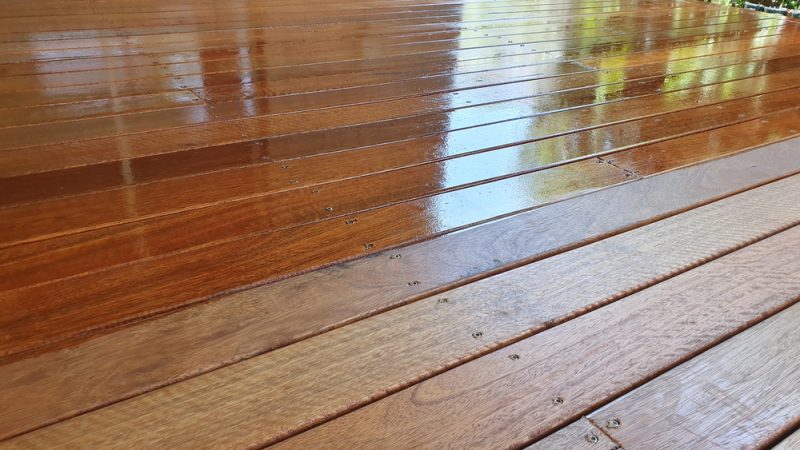 Stained deck
Stained Vs Painted Deck: Which is Better?
Now that you have an idea of how to do painted and stained wood decks, let's talk about their differences.
Differences Between a Stained and Painted Deck
You can paint decks in many colours. Stains also come in lots of colours such as blues, greys, browns, and reds. The main difference in using deck paint vs. stain for a deck is the appearance.
Decks with paint have thick covering, which can last longer than a deck with stain. However, the risk of peeling paint is higher than stain peeling. If you want a natural look, opt for deck stain. Paint your deck if you want to add colour.
Pros and Cons of a Painted Deck
Paint keeps water out of your deck wood and protects it from sun damage. It hides the flaws and blemishes on the wood. Plus, you can choose a lot of colours that will match the overall design of your house. Once painted, an outdoor deck is easy to maintain.
However, a painted deck is not all rewarding. It has its cons, too. Paint traps moisture when water gets into the wood. Water gets in the wood from unsealed sides and ends of boards. Water can also enter the wood if the boards are unsealed and close to the ground. Over time, this will lead to wood rot.
Pros and Cons of Deck with Stains
Stains highlight the beauty of your wooden deck. But, a stained deck has less slippery surface than paint. You can choose how much of the natural grain is exposed or the transparency of the stains on the wood.
However, a stained deck doesn't last as long as a painted deck does. Stain seeps into the wood, which makes it not suitable for filling in cracks. Some flaws on a weathered wood will likely still be visible.
FAQs
How much deck stain vs exterior paint to use?
If a deck measures 400 square feet and the stain covers 150 square feet per gallon, then approximately 2.67 gallons of stain would be needed to complete the project. Check the coverage information provided by the manufacturer to ensure accurate calculations. Purchase slightly more paint or stain than needed to account for touch-ups or mistakes.
Is a treated deck okay to paint or stain?
Yes. Some would recommend using stains since it can penetrate the wood. The water used to "carry" the chemicals used to treat the wood make it difficult for paint to adhere properly. You need to make sure that the wood has dried to 18% moisture content or less. This might lead to paint failure, such as peeling and flaking in as little as 6 months.
When is the best time to stain or paint your deck?
Paint and stain dry in at least 2 hours and another 6 hours to cure. So, it's best to do this job when it's not raining or threatening to rain. Most often, spring and summer seasons are the best time since you'd be expecting more bright and warm days.
Should you skip primer when painting or staining your deck?
You do not need to prime. Both stain and deck paints are self-priming.
Conclusion
To answer the question of which one is better between painting and staining, it depends on the condition of your deck. If your deck is newly built, has beautiful wood grain or you want an organic colour scheme, you might opt for staining to display its beauty.
However, if you want longer-lasting results, a painted deck is the best since paint is more resistant to water and UV damage. Regardless of your choice, you'll need to repaint or re-stain regularly to keep your deck in tip-top condition. Moreover, if you want a quality paint job or a professional-looking stained deck, opt to hire the pros. Contact us today and we can take care of protecting your deck.