A study room is where you can escape the hustle and bustle of everyday life and focus on your work or studies. It should be a calm and relaxing space that helps you to concentrate and achieve your goals.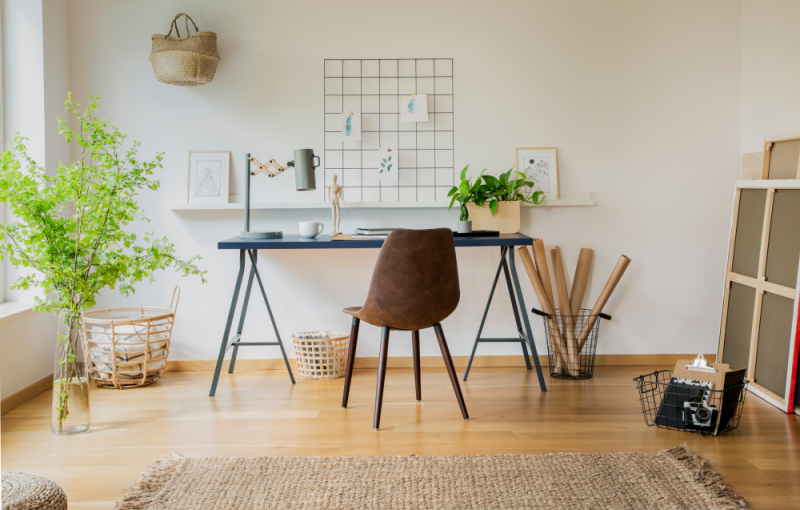 The colours in your study room can impact how well you can focus. It's essential to choose a colour scheme that promotes concentration and relaxation.
In this blog post, we'll share tips on picking the perfect wall colour combination for your study room.
The Impact of colour psychology in a study room
In recent years, setting up a personal study room has become the latest home trend.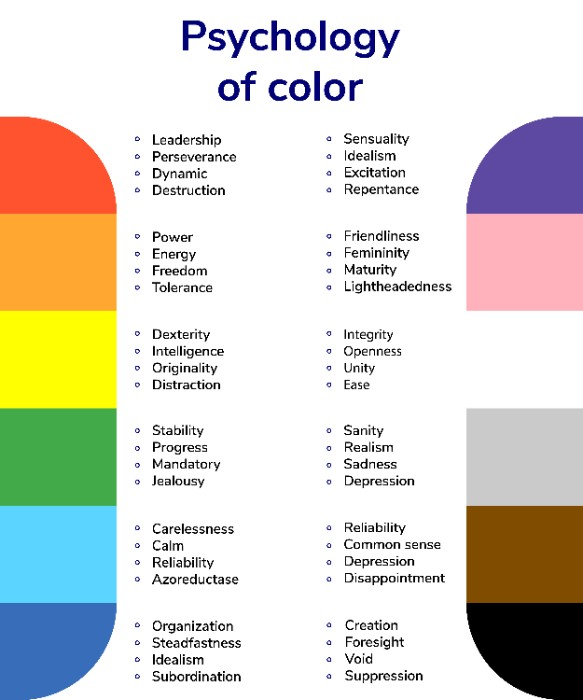 Color psychology suggests that certain shades and tones are ideally suited to this purpose and can promote an ideal mental atmosphere for learning.
To satisfy any preference, there is a vast selection of warm, cool or even gray color schemes!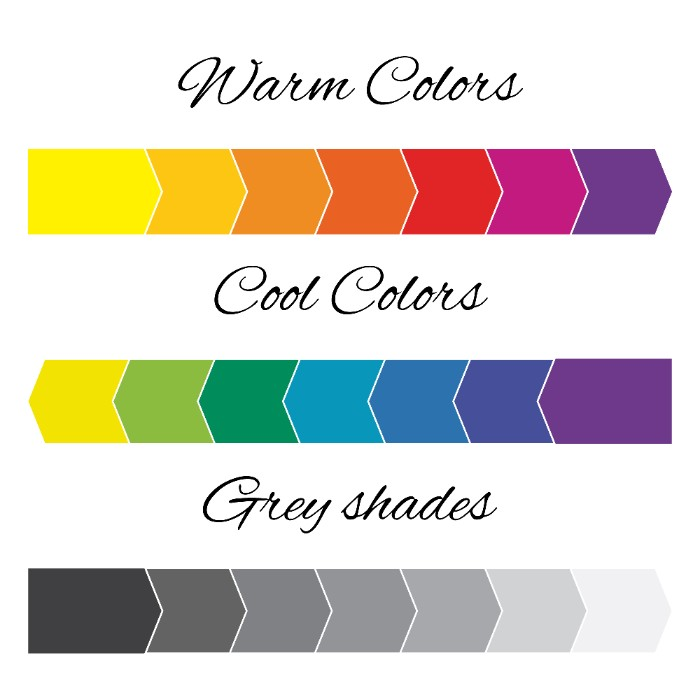 What Mood Is Best For a Studying Room?
First, you'll want to decide what mood you want to create in your study room.
Do you want it to be a calm and serene space where you can relax and focus on your work? Or do you want it to be a more energizing area that helps you stay motivated and inspired?
The best colour combination stick to a maximum of three colours
Once you decide on the room's mood, you can start narrowing down your colour options.
Types of colours
Employing colors can be a potent tactic as it generates illusions, stirs the emotions, and establishes an atmosphere in the study area. Choosing wisely will have drastic outcomes; however, careless selection of hues may bring about unfavorable consequences. Certainly, the choice of colors can make all the difference!
Warm Colors
Red, the most energetic color: It can provoke a range of emotions such as love, anger or power. Furthermore, research has proved that red increases heart rate and respiration rate, in addition to raising an individual's blood pressure. If you're looking for vibrancy in your space, adding red will undoubtedly give it more energy!
Orange radiates energy: Promoting an atmosphere of enthusiasm and excitement. Perfectly suited for activities that require extra vigor, this vivid shade is your go-to when seeking a paint colour to invigorate a space!
Yellow, the vibrant symbol of joy and delight: It radiates the enthusiasm of sunlight and communicates a sense of pure happiness.
Pink is the soothing hue of love, kindness and creativity: Its tranquil essence can help spark the imagination and bring out your creative side. Let its calming energy carry you to new heights as it guides you through a journey of self-discovery.
Cool colors
Green, the most tranquil of colors: Has a soothing effect and can reduce tension. It's also said to have positive effects on fertility as well!
Blue is the epitome of tranquillity: Its calming effects can be seen in many ways, such as lower blood pressure levels, slower respiration and heart rate––all indicators that one feels more relaxed and content when surrounded by blue hues.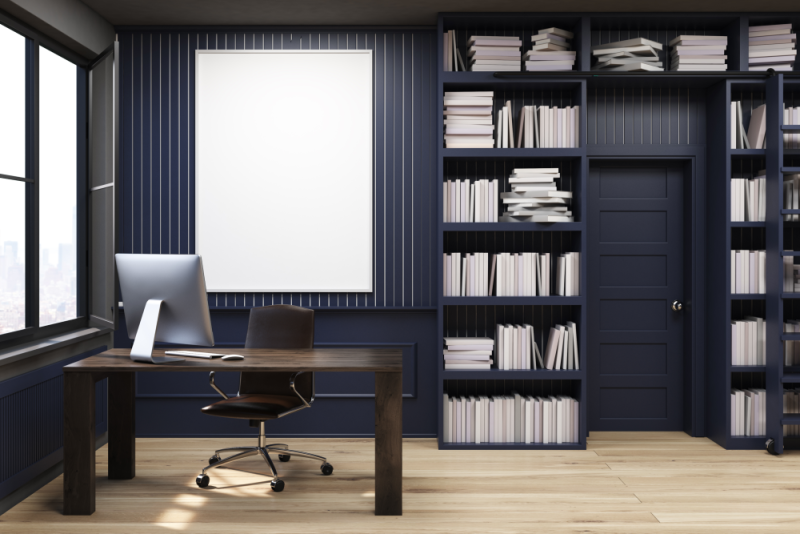 Purple exudes sophistication and drama: From the vibrant, dark hues to more light shades of lavender, this majestic color provides an air of richness as well as a calming effect.
Neutral Colors for some harmony and focus
Brown is often associated with the feeling of comfort: It provides an inviting warmth in any space, whether it be traditional or modern decor. In addition to its cozy factor, brown adds a hint of sophistication and elegance that can elevate any area.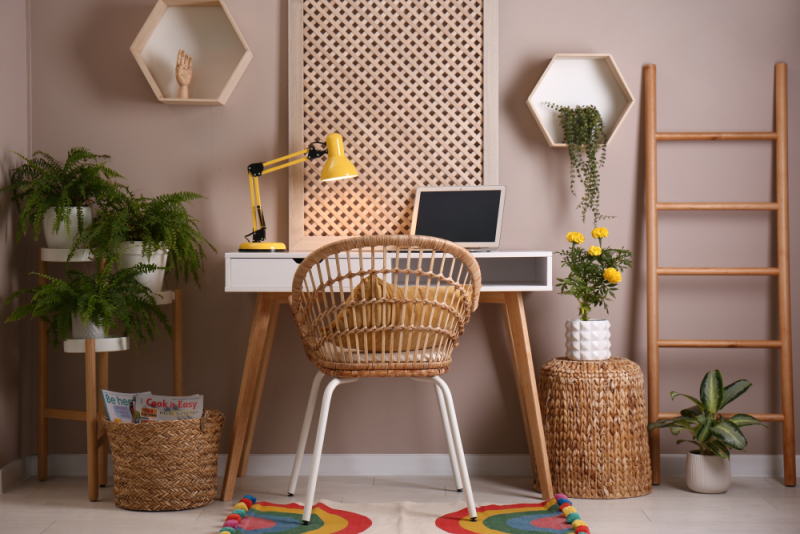 Grey is now the trendiest color of them all – and for a good reason! It provides a sense of comfort and warmth, while being completely versatile. From its lighter shades that exude timelessness to its darker hues that emit edginess, it's no wonder why grey has become so popular in today's fashion world.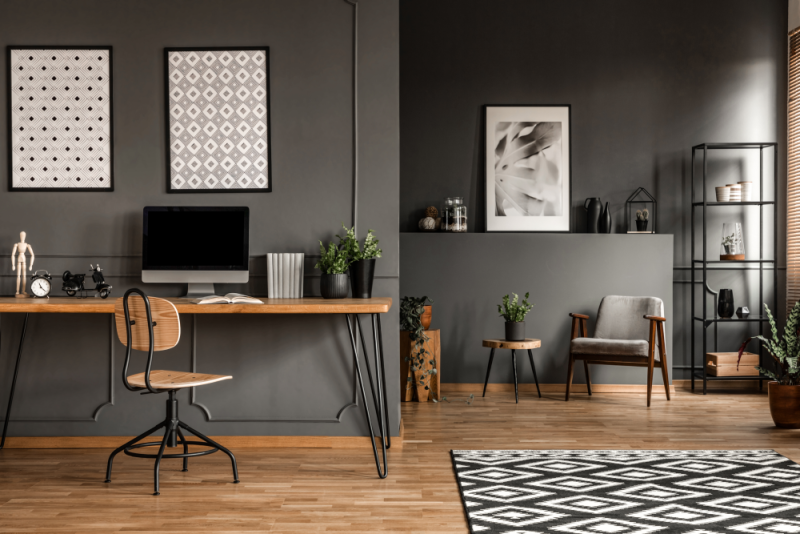 Black, elegance and sophistication: Small accents or touches of black may do wonders for a study space!
White, an eternal classic: Its calming vibes create a space that feels bigger and airier.
Discover the perfect colours for your study room!
When selecting colours for your home, opt for those that you love! That way, it's easy to imagine how they'll look together and what shades will work best in the space.
If you're still getting familiar with certain hues – no problem. Take some time to explore complementary tones so that everything comes together. Remember: when incorporating colours into a room, choose ones that make you feel good!

Consider your home's colour palette when selecting your study room. If you've already used some hues from a similar shade in other spaces, don't worry.

Utilizing the same colour can enhance the design that links all parts of your house together. In short, it will make the design flow through the house.

When selecting colours for your study room, consider the size of the area. If you have a larger space, don't be afraid to go bold with vibrant shades to draw attention and make each corner stand out. Additionally, pick lighter tones if you work in a smaller room. Lighter colors create an illusion of more space!

Once you decide on the room's mood, you can start narrowing down your colour options. Color combinations of bright colors like red with whites, cream, and other neutral colours to create a serene atmosphere.

Pick vibrant tones like orange and yellow if your workspace needs some life breathed into it. These tones will liven up the room!

Need help deciding which colour schemes will be perfect for your study room?
Gathering sample paints and testing them can make choosing much more manageable. You can try different combinations in the room before settling on one you love. You can do this without worrying about making a mistake!
Illumination is critical to creating the perfect study space.
Bright lighting can cause colours to appear too vibrant. And dim lighting can make them seem dull. To ensure that your hues are perfect for day or night, see how they look under electrical and natural light. This is important for those late-night reading sessions.
The decoration is also essential for a study room
When designing or decorating a study room, the stakes are high. If done wrong, you can end up with an intimidating, stressful, and unproductive atmosphere.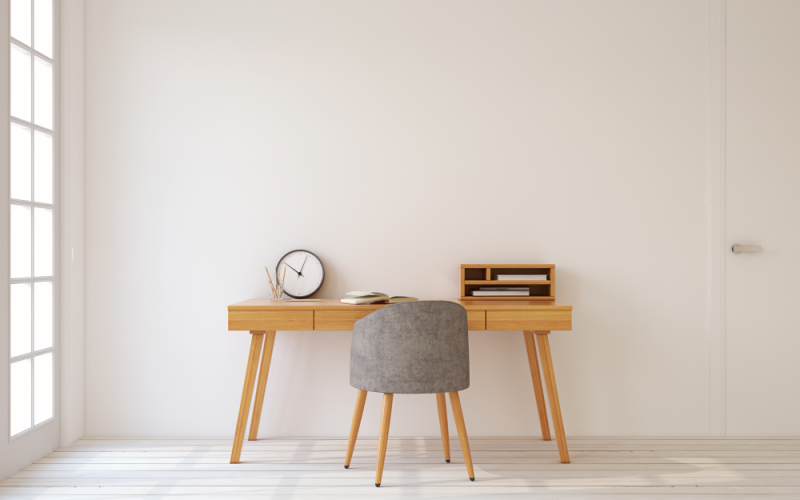 To create a productive environment for the best study environment, keep in mind the following six design factors:
You should choose a room that has less foot traffic

Paint the walls with calming colours to promote concentration.

Additionally, ensure the space is roomy and uncluttered for better focus.

For comfort, invest in high-quality study table and chairs with ergonomic features.

A balanced study room colour combination will include three colours at most, to prevent generating a sense of disarray in the area.

Colour combinations can create the feeling of a larger or smaller space. This works without compromising any of your elements.
With the right ambience in the study room, productivity will soar as concentration improves!
Ask for an expert opinion about designing your study space.
Make your study room reflect your unique style without going overboard! Need help finding the best colours and design for your study room? Let us help. Give us a call or email.
At Renaissance Solutions (Painting and Carpentry), our interior design team can help with colours.