If you are thinking about building or repairing exterior wood stairs, there are a few things you need to know. Building codes can vary from city to city, so it is important to make sure you are following the correct guidelines. In this article, we will discuss everything you need to know about building exterior wood stairs, from repairing existing stairs to hiring a contractor. We'll also give you some tips on how to make your stairs last longer and look great!
Do I need to replace or only repair my exterior stairs?
If you have stairs that are starting to show signs of wear and tear, you may be wondering if you need to replace them or if a repair will suffice. In most cases, a repair will be all that is needed. However, there are a few instances where replacement is the best option.
If your stairs are structurally unsound, have missing or rotted boards, or are otherwise in danger of failing or even collapsing, then replacement is the safest option. The quality of the wood used and the workmanship will be a big factor in if you need to rebuild versus repair.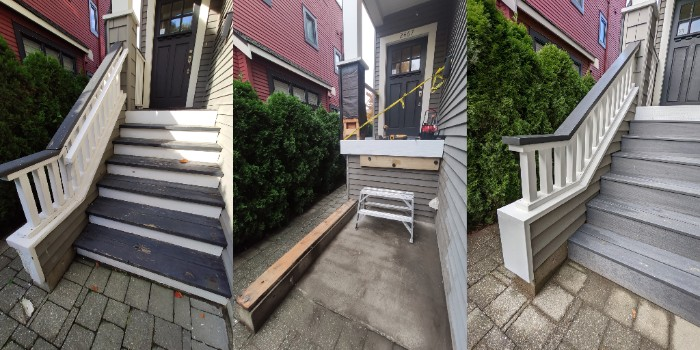 If the condition of the stairs is simply cosmetic, such as having cracked boards, or peeling and missing paint, then a repair will likely be all that is needed.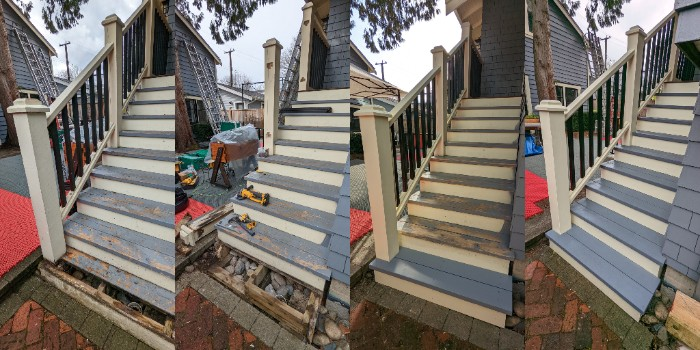 Why do Exterior stairs fail?
There are several reasons why stairs fail. Poor workmanship is often to blame, as is using subpar materials. If the original builder used low-quality lumber or failed to properly seal and protect the wood, the stairs will not stand up to the elements over time.
Another common reason for stairs to fail is inadequate maintenance. Just like any other part of your home, stairs need to be regularly inspected and maintained to stay in good condition. If you neglect your stairs, they will eventually start to show signs of wear and tear and can become unsafe possibly leading to an accident or injury.
Main causes of wood rot
Moisture is the number one cause of wood rot. When wood gets wet, it starts to break down and decay. This process is accelerated by warm temperatures and humid conditions. Wood that is regularly exposed to moisture, such as from rain, snow, or high humidity, is more likely to develop rot than wood that is kept dry.
Not sealing the wood during construction or repair is another common cause of wood rot. If the wood is not properly sealed, moisture can seep in and start the decay process.
Failing to maintain the stairs is another common cause of wood rot. Regular inspection and maintenance are necessary to catch problems early and prevent further damage. Regular painting or staining will also help protect the wood from moisture and prolong its life and keep your stairs looking their best.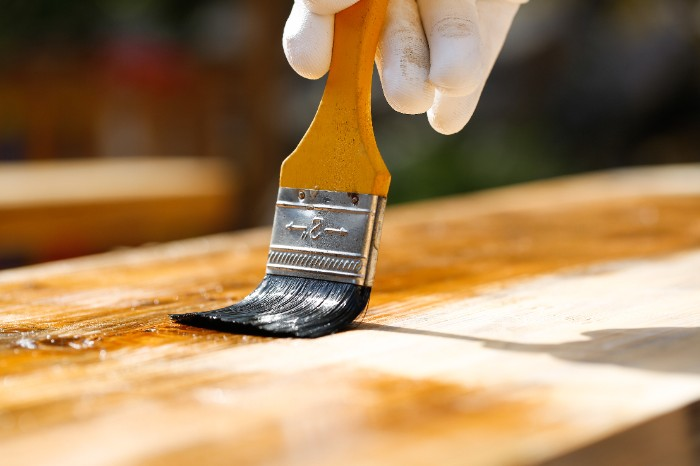 Safety tips for Outdoor stairs
When building or repairing exterior stairs, safety should be your number one priority. Follow these tips to help ensure a safe and sturdy stairway:
Make sure that stairs are built to the building code. The code is there to protect you, and everyone who uses the stairs.
Inspect the condition of the wood regularly. Look for signs of rot, damage, or wear and tear. Repair any problems as soon as possible to prevent further damage.
Are railings required on Outdoor Stairs in Vancouver?
Yes, railings are required on all exterior stairs in Vancouver. The building code requires that any stair with more than four risers have a handrail. The handrail must be between 34 inches and 38 inches tall, and the width of the stair must be 36 inches or less.
You must have a handrail that is easy to grasp, and it must be continuous for the full length of the stair. The handrail must also be located on the side of the stair that is closest to the building.
If you are installing new stairs or repairing existing stairs, make sure they meet all local building code requirements. Hiring a professional contractor who is familiar with the building code is the best way to ensure your stairs are safe and up to code.
You do not need a railing if the stairs are less than four risers high, but it is still a good idea to install one for safety.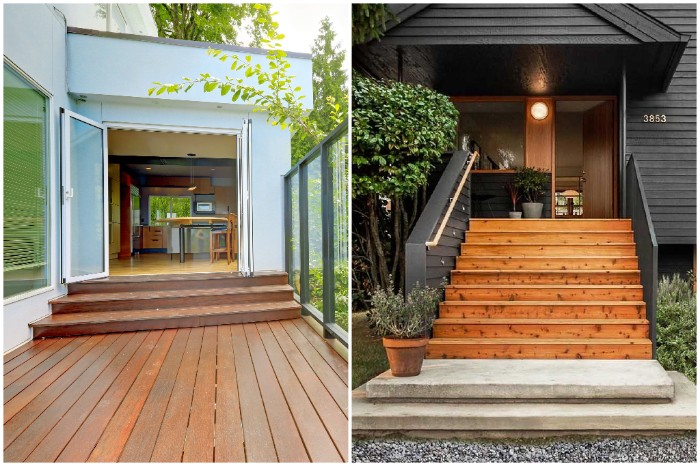 Typical Exterior stairs found in Vancouver
There are three main types of stairs wood, concrete and metal.
Wood stairs are usually built using 2×12 pressure-treated lumber for the stringers, and 2×6 lumber for the treads. The stringers are the main support beams for the stair and are usually spaced 16 inches apart. Wood stairs can be finished with paint or stain, and they can be either sanded smooth or left rough. For durability sometimes the treads and risers are built with composite lumber such as Trex.
Concrete stairs, usually referred to as steps, are typically constructed using a concrete form and held together with rebar. Concrete steps are typically finished in tile or sometimes paint. Older homes referred to as heritage homes are almost always painted and often suffer from peeling paint due to multiple layers. You will also see older concrete steps that are cracked, pitted or broken.
Metal stairs are usually made from steel or aluminum. They are typically used in industrial or commercial applications, but can also be found in some homes.
Steel stairs are usually finished with powder-coat paint or anodized to prevent rusting. They are very durable and require little maintenance and can be quite pricy.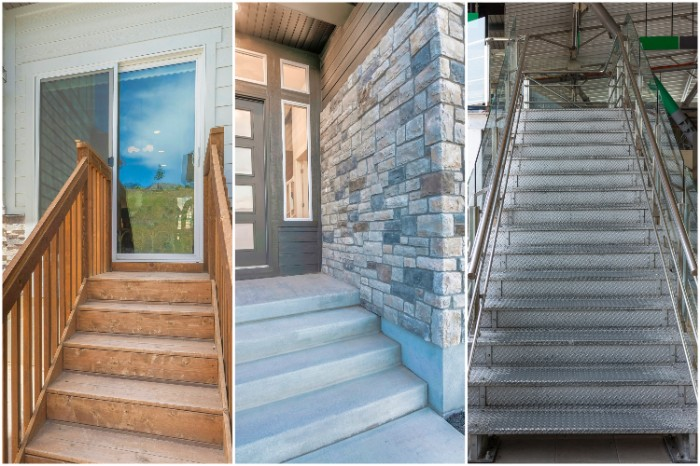 Recommended width of stairs
The recommended minimum width is 36 inches. The handrail must be located on the side of the stair closest to the building
Many problems can occur with stairs, ranging from aesthetic issues to safety hazards. It is important to hire a qualified contractor who is familiar with local building codes and has experience building stairs.
Do you need a concrete landing pad for your exterior Stairs?
The landing pad for exterior stairs needs to be at least 4 inches thick and must extend at least 36 inches beyond the edge of the stair. The landing pad must be level and should be made of concrete, asphalt, or another suitable material.
Do you need a landing from a door, or can you just have stairs?
There needs to be a landing from a door if the door opens onto the stair. The landing must be at least as wide as the door and at least 36 inches deep.
You can just have stairs without a landing if the stair is less than 30 inches above the ground, but it is still a good idea to have a landing for safety.
Should Stairs be painted, and with what?
Wood stairs need to be painted with floor and patio paint, that is specifically made to be walked on. Primer is not necessary as this type of coating is self-priming. Some types of wood, such as cedar can be stained. If you use a transparent or semi-transparent stain then be prepared to re-stain the steps every couple of years. Railings, spindles and posts can be painted with the same paint or any good quality exterior paint.
If you have concrete steps you can also use a concrete sealer, or even stain, on your stairs if you want to keep the natural look of the concrete. This type of sealer will need to be reapplied every few years to keep the stairs looking new.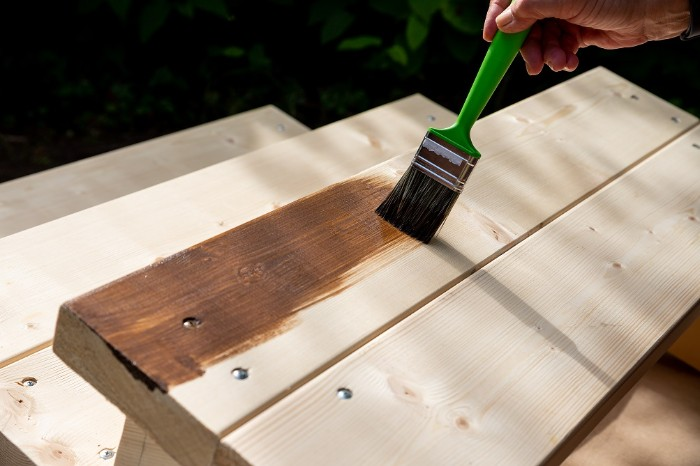 What is the cost for exterior wood stairs to be replaced?
It depends on the size, material used, design and type of stairs. For a simple and basic set of stairs, you are looking at around $2000 to $3000, and if they are more elaborate with siding and more details they can go as high as $22,000.
How much does it cost to repair outdoor stairs?
It depends on the damage. If the stairs are just dirty or need a new coat of paint, it will be relatively inexpensive. Common repairs are replacing railing caps, fixing spindles, repairing steps and reinforcing stringers. If the stairs are structurally damaged, you may need to replace them. Repairs can be anywhere from $200 to $5500, depending on the scope of work, materials needed and condition of the stairs.
If you have any questions about exterior wood stairs, building codes, or how to make them last, please feel free to contact us. We are always happy to help!